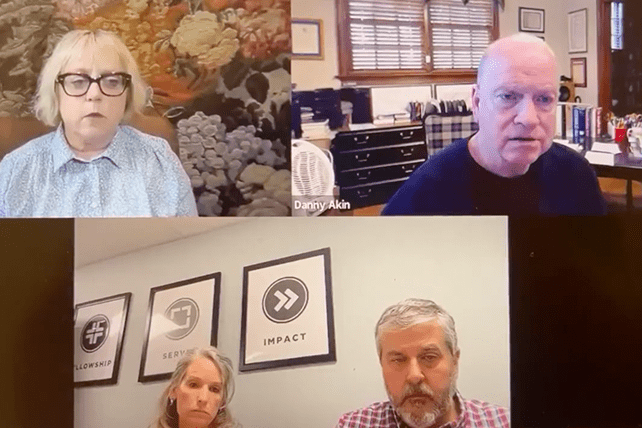 Outspoken Southern Baptist pastor Tom Buck has made his feelings known about a statement released by Southeastern Baptist Theological Seminary (SEBTS) regarding the leak of a draft article written by his wife, Jennifer. 
In a statement released on Friday (June 10), Buck indicated his intention to file a motion for a third-party investigation of the school at the annual meeting of the SBC next week. 
The draft, which Tom and Jennifer Buck have said contains personal information relating to abuse Jennifer endured prior to her marriage with Tom that she does not want made public, has been circulating for some time, with an anonymous person threatening to publicly release it in retaliation for Tom Buck's confrontation with former SBC presidential candidate Willy Rice over a leadership issue in Rice's church. 
RELATED: Southeastern Seminary Releases Statement on Leaked Draft of Tom Buck's Wife's Abuse Story; Clears Prior, Whitfield of Wrongdoing
On Wednesday (June 8), Southeastern Baptist Theological Seminary released a statement regarding the issue, clearing faculty members of being involved in a plan to leverage the draft against the Bucks. 
In 2018, when the draft was authored, SEBTS professor Karen Swallow Prior had begun providing editorial guidance on the piece. Due to personal reasons, Prior was unable to continue helping the Bucks with the article shortly thereafter. 
Sometime before April of this year, an anonymous person reached out to SEBTS provost Keith Whitfield in an attempt to have Prior verify the authorship of a leaked copy of the draft, something Prior refused to do. Both Prior and Whitfield both urged the unnamed person not to take the draft public. 
The SEBTS internal investigation involved an audit of email and phone records, as well as "extensive conversations with those involved." Through that investigation, SEBTS determined that while "the series of events could have been handled better," neither Prior nor Whitfield had acted maliciously against Tom and Jennifer Buck. 
Further, an unnamed couple had reached out to lawyer and abuse survivor advocate Rachael Denhollander, who has been mediating between the Bucks and SEBTS, to confess that they were the source of the threats on Tom and Jennifer Buck's reputation. 
RELATED: SBC Leader's Holy Week Plagued by Leaked Story of Wife's Abuse

According to SEBTS, the couple "provided corroborating information to validate that they were the original actors and that they acted alone. They affirmed that the individual they contacted at Southeastern, Keith Whitfield, informed them that Dr. Prior would not corroborate the article, and that they both urged them not to publish it."