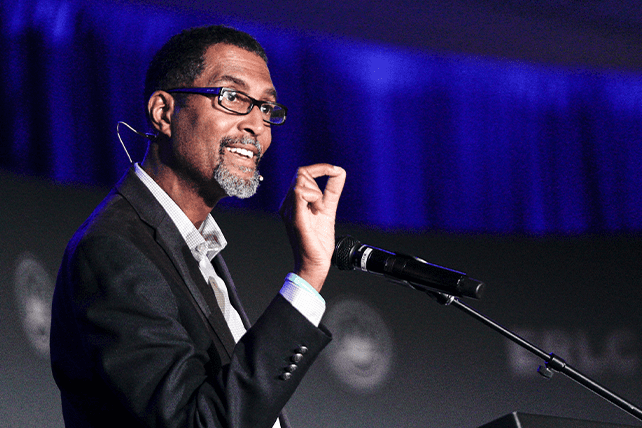 Kevin Smith, campus pastor for Family Church in West Palm Beach, Florida, and trustee for the SBC's Ethics and Religious Liberty Commission (ERLC), is under fire after comments he made at a 9Marks event during the SBC annual meeting in Anaheim, California, began circulating online. 
The comments came in the context of a question Smith was posing to a panel, which included 9Marks president Mark Dever, Southeastern Baptist Theological Seminary (SEBTS) president Danny Akin, Georgia pastor Aaron Menikoff, Texas pastor and author Matt Chandler, and Maryland pastor Omar Johnson. 9Marks is a ministry whose goal is "to see churches characterized by nine biblical marks of a healthy church."
"I think some Southern Baptists lost their minds when a black man was elected president. Not all, but some," Smith said from a microphone positioned in the crowd in a reference to the presidency of Barack Obama. "I think some Southern Baptists were unloving to black people beginning in 2012 with the killing of Trayvon Martin. I don't mean agree about politics or policy. I just mean giving a darn that somebody else is hurting who is supposed to be your brother or sister in Christ."
RELATED: SBC Apologizes to Sexual Abuse Survivors, Reaffirms Pro-Life Beliefs in Resolutions Adopted at Annual Meeting
"And I think some Southern Baptists just bent over and became political whores with this whole Trump stuff," Smith went on to say. Citing the high profile departures of some Black pastors and churches from the SBC, Smith said, "I just wonder if white brothers think this has been kind of crazy—black/white stuff going on, Asian, Hispanic—just people who aren't white feeling like they're tolerated but not really embraced."
"So I just wanted to know what white brothers think the race thing is in the SBC," Smith said.
9Marks Panel Responds
Aaron Menikoff was the first to respond to Smith's question.
"I don't know about the SBC, but I've been pastoring in Atlanta—it's more discouraging today than when I arrived 14 years ago," Menikoff said. "And over the last four years, we've had some African American brothers and sisters come to our church because we were 'less Trump' than some other church. We've had some come to our church because we were 'less social justice-y' than some other churches." 
"I have been humbled, and I'm aware that I don't know what I can do to make it racially better. You know, I generally say, preach the gospel and good things will happen," Menikoff continued. "And, pastoring in Atlanta, I just have so many opportunities to have so many relationships with African American brothers, and trying to lean into those relationships and grow. And try to help my congregation stay focused on the gospel but also aware of our history."
Chandler addressed Smith next, first thanking him for his question.
RELATED: Saddleback's Status as an SBC Church in Doubt As Mohler, Ascol, Others Push For Disfellowship on the Convention Floor
"I needed to shift about three years ago to start worrying about this at the Village Church and Acts 29 and to stop trying to solve it everywhere else," Chandler said, referencing the church he pastors in Texas and the church planting network of which he is president. "Because I was losing everywhere. I was losing the white people. I was losing the Black people…It was never enough in this direction or it was never enough in [that] direction."