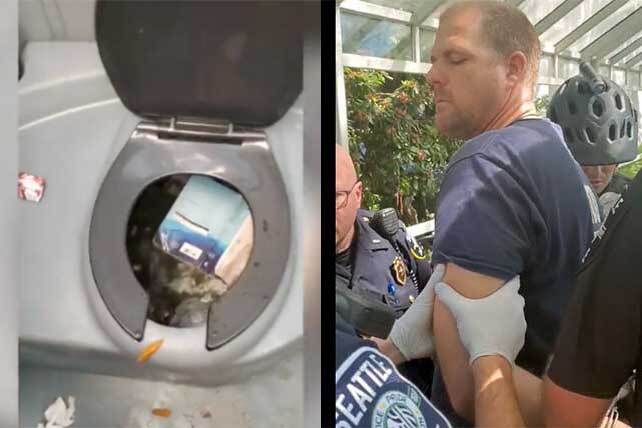 Matthew Meinecke, known on social media as The Seattle Preacher, was arrested twice last weekend for preaching and reading his Bible, once during an abortion rally and later that weekend at a PRIDEFEST 2022 event.
A video Meinecke posted to Twitter shows protesters taking Meinecke's Bible and ripping pages out of it, throwing them on the ground while screaming obscenities at him.
"Hate Crime, this needs to be investigated," Meinecke's tweet reads. "I demand someone take actions and press charges. My bibles were destroyed in hate for my Christian beliefs."
One person can be heard telling the street preacher, "Get the [expletive] out of here. You understand me?" Another person screamed, "Get your holy water off my ovaries, [expletive]! Get the [expletive] out!"
Those not involved in harassing Meinecke stood nearby, watching their fellow protesters assault him.
RELATED: Street Preacher Arrested for Defining Biblical Marriage Says 'I Was Doing What My Job Description Says'
Meinecke shared that after Friday's event where he was reading the Bible aloud, his Bible was ripped up, he was dragged by protesters, he had his shoe ripped off, and a barrier was thrown on top of him. "This was extremely violent. The people were enraged" because of the Roe v. Wade reversal, Meinecke told his followers.
The husband and father of two shared with ChurchLeaders that he was also kicked in the head so hard that he blacked out during the rally. A video of the incident has been given to the authorities so that charges can be filed against the assailant.
Later that weekend, Meinecke posted another video showing a separate incident during an event celebrating LGBTQ+ rights at a Seattle park, where another one of his Bibles was taken from him and kicked around like a soccer ball by pro-LGBTQ+ attendees.
"Desecration of another person's religious material is a HATE CRIME. If this was a Quran people would be outraged. People must really hate the WORD of GOD right now," Meinecke tweeted.
Those kicking the street preacher's Bible can be heard laughing. Holding his tattered Bible up, he told those who were kicking it, "If this was a Quran, you would not have done that." Someone replied back, "No, because they wouldn't be here doing this." Someone else chimed in, "We actually would have."
Another person told Meinecke to "forget about your imaginary fairy in the [expletive] sky."