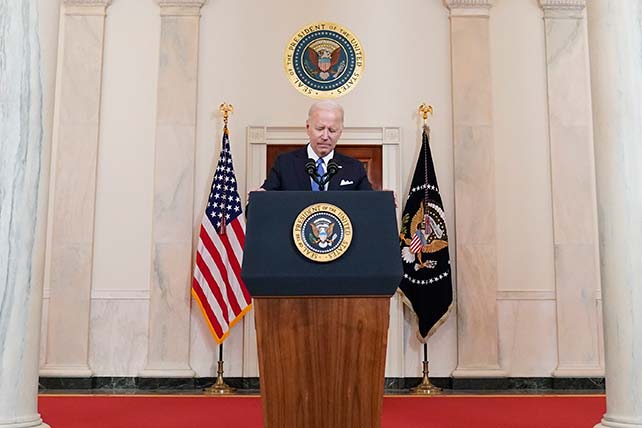 WASHINGTON (BP)—Efforts by the Biden administration and congressional Democrats to counteract on multiple fronts the effect of the U.S. Supreme Court's reversal of the Roe v. Wade decision have drawn a robust objection from the Southern Baptist Convention's ethics entity.
President Biden condemned again Thursday (June 30) the high court's 5-4 opinion that overruled the 1973 decision that legalized abortion throughout the country, something he also did June 24 on the same day the ruling was issued. The decision in Dobbs v. Mississippi Women's Health Organization returned abortion policy to the states, where it had been before the watershed Roe opinion.
In a news conference Thursday at the NATO Summit in Spain, Biden described the ruling as "outrageous" and called for Congress to codify Roe into law through an exception to the Senate's filibuster rule, which requires 60 votes to end debate and take floor action on legislation. Such a rule change would enable consideration and passage of a bill with only a majority in support.
Biden also repeated his June 24 request for voters to elect enough senators and representatives to codify abortion rights in law. He had previously said "Roe is on the ballot" in November.
RELATED: Rep. Lauren Boebert Says She Prays for Biden's Days To 'Be Few' and for Another To 'Take His Office'
The president already had announced after the Supreme Court's ruling his administration would protect interstate travel for abortions and access to drugs that end the lives of preborn children. The administration also established a new website that helps women find an abortion provider and obtain funds to pay for such a procedure.
Meanwhile, Democrats in Congress urged the president to take more decisive action for abortion access. Some have called for Biden to declare a "public health emergency." Some have promoted a legislative effort to "crack down" on pro-life pregnancy resource centers.
Brent Leatherwood, acting president of the Ethics & Religious Liberty Commission (ERLC), told Baptist Press, "These actions and proposals constitute an effort to completely obliterate this nation's bipartisan consensus, that has held for years, that taxpayer resources should not go to the promotion and promulgation of abortion. Implementing them would assault the consciences of millions of Americans who believe each person, born and preborn, is made in the image of God and worthy of protection.
"In the wake of the monumental Dobbs decision, our nation's leaders should come together and institute a true culture of life that saves lives, supports mothers and works for the flourishing of families," he said in written comments. "Instead, these policies represent a commitment to an extreme view that continues to treat our most vulnerable neighbors as disposable inconveniences."
Regarding Biden's call to suspend the filibuster to codify abortion rights, Leatherwood said, "Just as our nation enshrined protections for minority rights in our Constitution, the filibuster has served as a procedural safeguard of the minority perspective in the U.S. Senate. President Biden, who served so many years in the Senate, uniquely understands that, which makes this call for an exception all the more disheartening.
RELATED: Biden Says a 'Child of God' Has a Right to an Abortion; Psaki Calls Mohler's Opposition to Roe 'an Outlier Position'
"[A]n exception here will render the filibuster meaningless for all future debates where the majority wants to force its will whenever it feels it necessary, an effect that will have devastating consequences for American politics," he said. "Governing and legislating are challenging, but bulldozing over viewpoints one disagrees with is no way to make policy for our nation."
During his June 24 speech, Biden announced:
— His administration will fight any state or local official who seeks to prevent women from traveling from a state in which abortion is prohibited to another state for an abortion.
— He is directing the Department of Health and Human Services (HHS) to work to protect access by women to medical/chemical abortions.