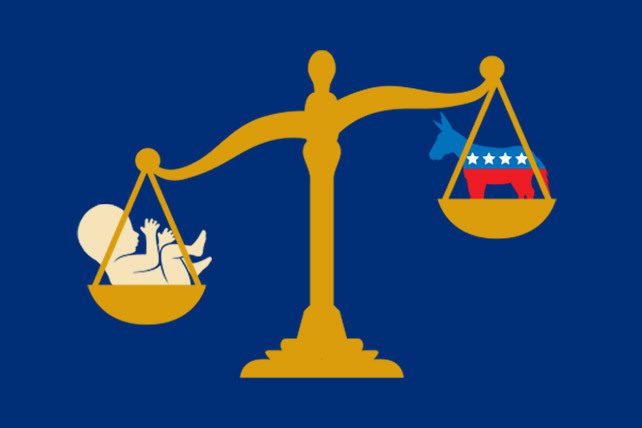 "You can no longer pretend to support life and vote Democrat. Period," former Southern Baptist Convention Executive Committee member Rod Martin tweeted yesterday after Senate Democrats forced a vote in an attempt to codify the right to an abortion into federal law.
Every Senate Democrat except Senator Joe Manchin of West Virginia voted in favor of advancing the bill, called the Women's Health Protection Act (WHPA).
The bill would have not only preserved abortion rights but would have allowed for abortion to take place up until the moment of birth, as long as a medical professional deem the pregnancy a threat to the mother's life. (Emotional health is included in that evaluation.) Further, the bill would have barred states from placing any restrictions on abortion.
The Senate vote failed 49-51, because Manchin voted with every Senate Republican to strike the bill down.
Democratic Senators pushed to pass the bill in light of last week's leak of Supreme Court Justice Samuel Alito's draft opinion, which signaled the possible overturn of Roe v. Wade. Democratic leader Chuck Schumer said, "For the first time in 50 years, a conservative majority—an extreme majority—on the Supreme Court is on the brink of declaring that women do not have freedom of their own bodies."
"All of us will have to answer for this vote for the rest of our time in public office," Schumer told fellow Senators before the vote. "Before the day is over, every member of this body will make a choice to stand with women to protect their freedoms or stand with MAGA Republicans to take our country into a dark and repressive future."
After the bill failed to receive the necessary votes, Vice President Kamala Harris told reporters, "Sadly, the Senate failed to stand in defense of a woman's right to make decisions about her own body."
In a statement released by The White House, President Joe Biden scolded Republicans for not supporting the WHPA.
"Republicans in Congress—not one of whom voted for this bill—have chosen to stand in the way of Americans' rights to make the most personal decisions about their own bodies, families and lives," the statement said.
"To protect the right to choose, voters need to elect more pro-choice senators this November, and return a pro-choice majority to the House," Biden continued. "If they do, Congress can pass this bill in January, and put it on my desk, so I can sign it into law."
Reiterating his commitment to codifying Roe, Biden said, "While this legislation did not pass today, my Administration will not stop fighting to protect access to women's reproductive care."
Last week, Biden said he believes that being "a child of God" gives someone the right to an abortion.