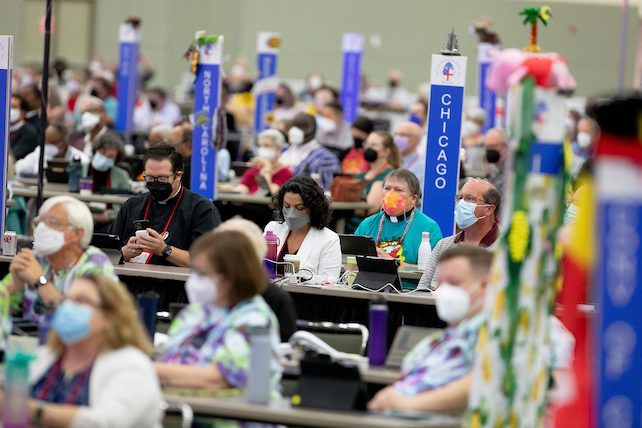 (RNS) — The Episcopal Church will create a fact-finding commission to research the denomination's role in the federal Indian boarding school system that separated generations of Indigenous children from their families and cultures in the 19th and 20th centuries.
Bishops and deputies at the mainline denomination's scaled-back General Convention approved the Resolution for Telling the Truth about The Episcopal Church's History with Indigenous Boarding Schools over the weekend in Baltimore.
The resolution encourages the Episcopal Church to hire one or more research fellows to work with dioceses where Episcopal-run boarding schools for Indigenous children were located and share records with the Indigenous Ministries of the Episcopal Church and the National Native American Boarding School Healing Coalition.
It also directs the denomination's archivists to create educational resources about the schools and encourages dioceses where boarding schools were located to gather information from survivors and their descendants about their experiences.
In addition, the House of Deputies — which, with the House of Bishops, oversees the church — elected an Indigenous clergywoman, the Rev. Rachel Taber-Hamilton, as its vice president. A member of the Shackan First Nation and a priest in the Diocese of Olympia, Taber-Hamilton is the first ordained woman — and only the third woman — to serve in that role, according to Episcopal News Service.
She was elected alongside President-elect Julia Ayala Harris, a Latina laywoman from the Diocese of Oklahoma. Their election marks the first time two women and two people of color will lead the house.
RELATED: Department of Interior releases first report detailing US Indian boarding schools
Those actions come as U.S. Interior Secretary Deb Haaland kicks off "The Road to Healing," a national listening tour in which the secretary will hear from survivors of boarding schools in the United States. Haaland's department recently released the first volume of an investigative report into the country's Indian boarding school system.
And, at the end of July, Pope Francis will travel to Canada to offer an apology to survivors of similar residential schools in that country, after the pontiff received representatives of Canadian Indigenous people at the Vatican in early April.
"This is a moment for us to really examine how we as a church might look at the ramifications of our unintentional sometimes and sometimes intentional acts of culturalism, racism and every other sin we could talk about," Bishop Carol J. Gallagher told the House of Bishops before its vote on the resolution.
The Episcopal Church's General Convention, normally held every three years, was already delayed a year by the COVID-19 pandemic, and the meeting that ended Monday (July 11) was shortened from eight days to four to minimize risks of spreading the virus.