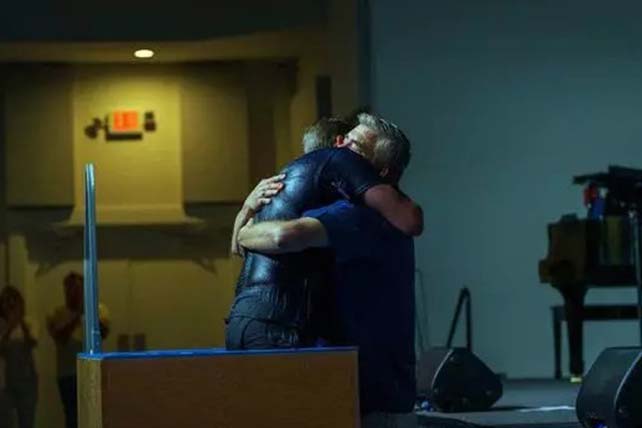 NASHVILLE (BP) – It's always a joyful experience for pastors to baptize a fellow child of God, but it's an even more joyful experience for them to baptize their own child.
For Woody Walls, associate pastor of Beach Road Baptist Church in Southport, N.C., baptizing his 27-year-old son Jarrett was the culmination of a long and sometimes difficult spiritual journey.
After running from a call to ministry for much of his life, Walls joined the staff at Beach Road a few years ago and is currently pursuing an M.Div. at Southeastern Baptist Theological Seminary.
Walls said he and his wife had raised their children in the church and always tried to teach the Gospel to them. Jarrett made a profession of faith when he was young, but the evidence of spiritual fruit was thin.
RELATED: Always the Right Time for Baptism, 90 Year-Olds Say
Walls said it became clearer after Jarrett left for college that something was not right in his walk with God. Walls maintained a relationship with him, while also trying to have spiritual conversations and asking close friends to fervently pray for his salvation.
"I looked at my wife one night and just said 'I'm just going to have to turn this over to the Lord,'" Jarrett said. "The best thing I can do for Jarrett at this point is just pray for him."
Jarrett moved back to Southport close to his parents with his wife and newborn baby a couple years after college. Walls began to notice a change in Jarrett's life as he wanted to become more involved with Beach Road.
Eventually Jarrett would acknowledge his need for true conversion.
"Jarrett told me, 'I need to get serious with my faith, as I'm a Dad and a husband now,'" Walls said. "He told one of our pastors that he never lived out [his] faith before and was always trying to walk the fence and play the game."
RELATED: Al Mohler Explains to a Podcast Listener How Baptism Doesn't Bring Salvation
When Jarrett wanted to be baptized after being truly born again, his Dad did the honors.
"For me to be able to baptize him on Easter was a culmination of a lot of things," Walls said. "As my son, I was excited that he is committed to following Jesus and being the husband and father that the Lord's called him to be. Baptism really meant something to him.
"Our relationship was also so much better and stronger at that point, and I remembered all the prayers that had been lifted for him. Every baptism is special, but this one was just really special. There was a lot of emotion, and he embraced me afterwards. I was soaking wet, but I didn't care."
For other pastors, baptizing their children can look like patiently talking with young kids through the meaning and implication of the ordinance.