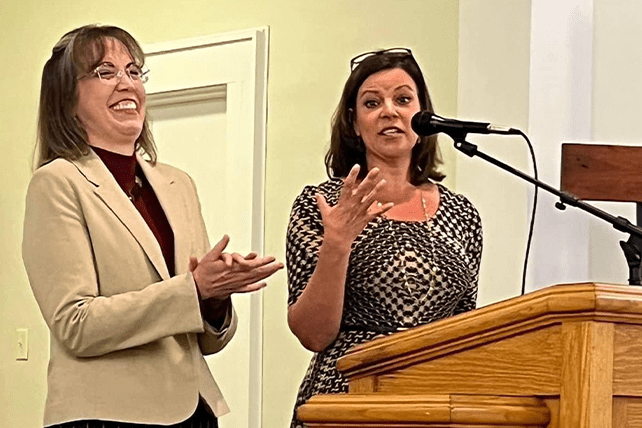 ORLINDA, Tenn. (BP) — Bivocational Pastor Mark Carroll is the only paid staff member at Pleasant Hill Baptist Church, a congregation of about 50 worshipers in the farming community of Orlinda, Tenn., where less than 1,000 people live.
But the church is embracing its cooperation with the Southern Baptist Convention in creating ministry spaces safe and free from sexual abuse, bivocational Pastor Mark Carroll told Baptist Press.
Pleasant Hill invited longtime Southern Baptist laypersons Scarlett Nokes and Liz Evan to the July 31 worship service to update the church on the work the SBC has begun in fighting sexual abuse, receiving and responding to abuse accusations and ministering to victims.
While Nokes is an attorney with Bradley Legal, serving as interim legal counsel for the SBC Executive Committee, and Evan served on the SBC Sexual Abuse Task Force (SATF) that commissioned a lengthy investigation of the EC's handling of sexual abuse complaints, neither spoke in those capacities, Carroll said.
"I asked those two ladies if they could come and share, not as a lawyer and a member of the task force, but just personally what they have experienced, what they've been through working on the task force and working with the Executive Committee, and then kind of where we're headed as a convention," Carroll said. "We wanted to update our folks."
Carroll is committed to following requests the SATF made in its report of how the EC handled sex abuse allegations from 2000-2021, and is looking forward to the upcoming work to be done by the Abuse Reform Implementation Task Force yet to be named.
"We're already doing things to protect our kids and our flock, but we'll be more diligent about it going forward," Carroll said. "We background check our children's workers and of course, we're a single-staff (member) church, but we will use the database (of convicted and credibly accused offenders). Anybody that has any contact with our children or anybody in the church will be looked at. We just need to do our due diligence to protect our flock."
Nokes is a lifelong Southern Baptist and a member of Temple Baptist Church in White House, and Evan is a member of Hillcrest Baptist Church in Clarksville.
"I was taking off my lawyer hat and talking to them as someone who has read the report, knows a little bit about the issue and is concerned, and as a friend. He was the associate pastor at my home church," Nokes told Baptist Press. "I was just there as a Southern Baptist who's read the report and the recommendations, and hopefully could help them understand what's going on and the changes that are taking place."
Nokes expressed appreciation for Pleasant Hill's interest in and commitment to preventing sex abuse among Southern Baptists.