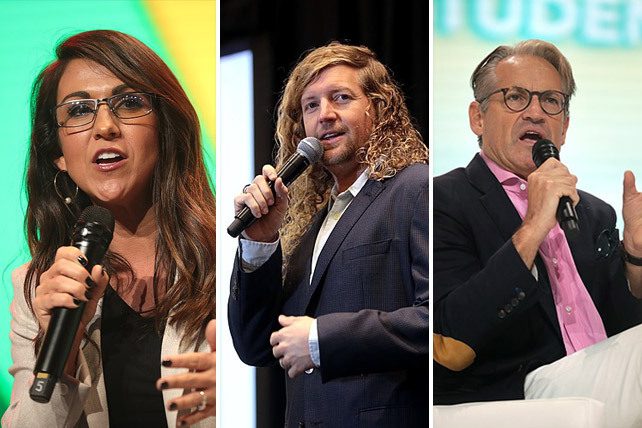 Worship leader and activist Sean Feucht brought his Hold the Line movement to Colorado Springs, Colorado, Friday, May 20. Eric Metaxas and Rep. Lauren Boebert spoke at the event, where one of the key messages was that Christians have a duty to God and their neighbors to take a bold, political stand for the truth. 
"Everything hangs in the balance," said Eric Metaxas during his speech. "Everyone in the world is looking to this country as what Lincoln called, 'The last best hope on earth'…I am convinced that God has not taken his hand off this country."
According to its website, Hold the Line "is a new movement focused on engaging with the church and young people across the country. Our mission is to Inform, Educate, and Inspire the next generation of leaders to take a stand for what is right. Our deeply held beliefs are falling out of line with the progressive agenda being forced upon America. It's time to fight back!" 
Sean Feucht is the founder of Hold the Line, as well as the Let Us Worship movement, which was initially a response to California governor Gavin Newsom banning singing in church in July 2020. Feucht has since held numerous Let Us Worship and Hold the Line events across the country.
Hold the Line Comes to a Snowy Colorado Springs
The Road @ Chapel Hills church hosted Friday's event, which ran from 12:30 p.m. to 5:30 p.m. in the midst of an incoming snowstorm. Over 500 people attended, according to the church's communications director. A description for the event reads:
Throughout the day you will hear from our nation's political and thought leaders about how, as a believer, you can constructively engage the media, government leaders and your fellow citizens in the great debates and conversations facing America. You'll leave knowing what to do now to preserve liberty and set up future generations for success.
The Road's Pastor Steve Holt welcomed attendees, and then Feucht led those present in singing some worship songs, noting that it is easy to get angry about what is happening in our country, so it is important to start with worship. After worship, Feucht gave a speech describing his activism over the past couple of years and laying out the vision and purpose for Hold the Line. 
Among the work he highlighted, Feucht mentioned his campaign for California's third congressional district, a run for office he announced in September 2019. While he failed to secure that seat, Feucht sees that experience as preparation for the political movements with which he is presently involved. 
Feucht commended politicians he believes are "holding the line," but exhorted the audience not to be complacent about taking action. He praised political candidate Doug Mastriano, who recently won the Republican nomination for governor in Pennsylvania's primary. Feucht said he attended a watch party for Mastriano and was surprised to find the candidate's primary focus was on worship. 
Mastriano is controversial figure for reasons including that he challenged the results of the 2020 presidential election, appeared at a conference that promoted conspiracy theories, and was present at the January 6 Capitol riots—although he denies storming the Capitol building. He has been subpeonaed by a committee investigating those events.
Feucht also praised Florida governor Ron DeSantis, but called believers not to leave the work of the church to politicians. "It never works out well when we're waiting for politicians to do what the church is called to do."