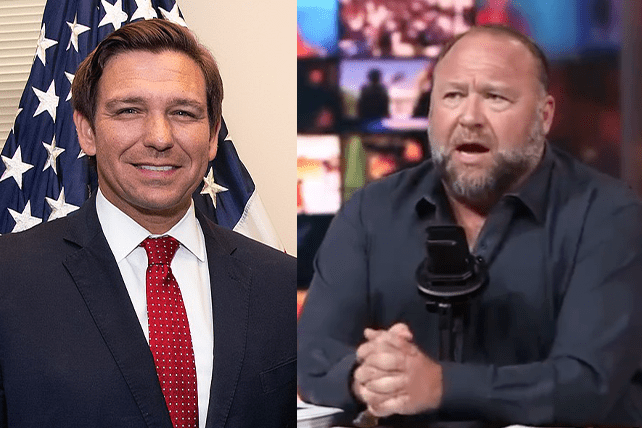 Conspiracy theorist Alex Jones has endorsed Florida governor Ron DeSantis for president in the 2024 election. Jones was previously a staunch supporter of Donald Trump, who may also be seeking the Republican nomination.
While neither Trump nor DeSantis have announced their candidacy in the 2024 presidential race, it has been widely speculated that one or both of them will run. 
Jones revealed his change in allegiance in a recent episode of his "InfoWars" web show, wherein he described his previous support of Donald Trump as "pigheaded." 
Despite having disagreed with the Trump Administration's "Operation Warp Speed" response to the COVID-19 pandemic, Jones said, "I thought we had to keep him in office, because of the nightmare scenario if Hilary or Biden got in—back before they were officially running."
RELATED: FBI Executes Search Warrant at Trump's Mar-a-Lago; Christian Leaders React
"With that said, I am supporting DeSantis," Jones continued. "DeSantis has gone from being awesome to being unbelievably good." 
"And I don't just watch a man's actions, as Christ said, 'Judge a tree by its fruits,'" Jones added. "I can also look in his eyes, on HD video, and I see the real sincerity."
Jones, who has long been known for spreading unsubstantiated conspiracy theories through his web show, recently made headlines after a Texas jury ruled that he is obligated to pay $49.3 million in damages to parents of victims in the Sandy Hook Elementary School shooting. 
For years, Jones perpetuated the lie that the massacre, which took place in 2012, was a hoax staged by "crisis actors."
Following the verdict, right-wing political consultant and lobbyist Roger Stone called upon fellow conservatives to financially support Jones, saying, "He is a God-fearing Christian, he's done more for this movement than perhaps anyone you could possibly name, and, right now, he needs our support."
Stone was convicted on felony charges of witness tampering and lying to Congress in 2019. He was subsequently pardoned by then-president Trump shortly after Trump commuted his sentence. 
RELATED: Roger Stone Raises Money for 'God-Fearing Christian' Alex Jones
During his defamation trial, Jones used his faith as part of his defense, saying that "InfoWars" has recently begun to shift away from political discussions to more Christian "self-help" content.