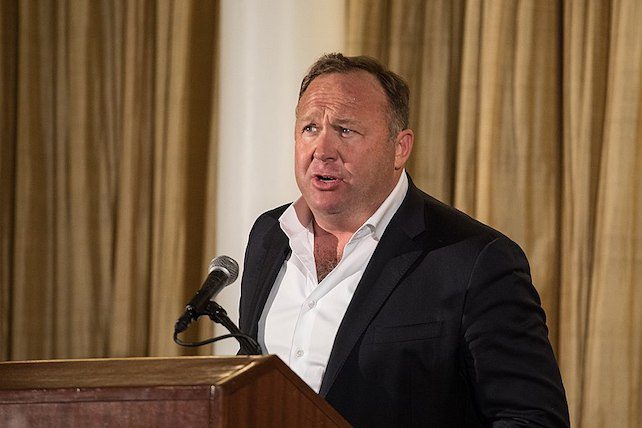 After a Texas jury last week ordered "Infowars" host Alex Jones to pay $49.3 million in damages to Sandy Hook parents, fellow conservative Roger Stone began raising money for him. Stone, a Trump adviser who received a pardon from the former president, recorded a video asking people to assist Jones, calling him "a good and decent man." Stone added, "He is a God-fearing Christian, he's done more for this movement than perhaps anyone you could possibly name, and, right now, he needs our support."
Jones, a conspiracy theorist, had claimed the 2012 shooting at Sandy Hook Elementary School was a hoax staged by "crisis actors." This is the first of three trials he faces as a result. Parents Neil Heslin and Scarlett Lewis, whose 6-year-old son was among 26 people killed at the school in Newtown, Connecticut, are the plaintiffs in this lawsuit.
Alex Jones Says He's Being 'Silenced'
Last week, a Texas jury ordered Alex Jones to pay Heslin and Lewis $45.2 million in punitive damages and $4.1 million in compensatory damages. Lawyers for the parents had urged the jury to stop Jones' "monetization of misinformation and lies." Heslin and Lewis were "thrilled with the result and look forward to putting Mr. Jones' money to good use," their lawyers added.
In response, Jones said he's being "silenced" by a "kangaroo court"—during "very dark times for our republic." Supporters are praying for him, he adds, and he is "honored" to be attacked by people who "hate America."
Stone, in his video plea, says, "There's a place at the Infowars store where you can go just to make a contribution. If you're not in the market for a book, or one of [Jones'] great products, there's a link you can just send a contribution."
During his testimony last week, Jones admitted the Sandy Hook shooting was "100 percent real" and apologized to parents. He also learned that his lawyer, Federico Reynal, had accidentally sent massive amounts of data from Jones' phone to opposing counsel. Upon discovering the mistake, Reynal requested a mistrial, which the judge denied.
The leaked data includes every text Jones sent for the past two years, as well as confidential legal documents. As a result, plaintiff's attorney Mark Bankston told Jones in court, "I know you lied to me when you said you didn't have text messages about Sandy Hook."
Jones, who says a huge verdict will "sink" his show, reportedly earns up to $800,000 per day, according to the leak. During last week's trial, his company Free Speech Systems filed for bankruptcy.