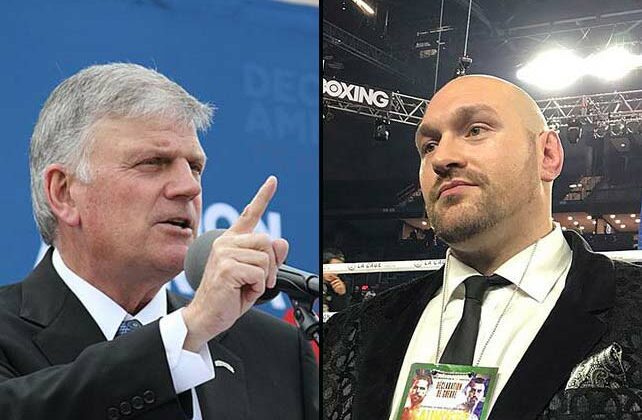 On Tuesday (August 22), president and CEO of Samaritan's Purse and the Billy Graham Evangelistic Association Franklin Graham, offered his "deepest condolences" to heavyweight boxing champion and professing Christian, Tyson Fury, for the loss of his cousin who was killed on Monday.
Fury tweeted a message to the UK government, calling for them to increase penalties for knife crimes after his cousin was killed in a stabbing.
"This is becoming ridiculous," Fury said. "Idiots carrying knives. This needs to stop ASAP. [The] UK government needs to bring higher sentencing for knife crime. It's a pandemic and you don't know how bad it is until it's one of your own! Life is very precious and it can be taken away very quick—enjoy every moment. RIP Rico Burton, may the Lord God grant you a good place in heaven. See you soon."
Franklin Graham: 'We Will Never Have an End to the Killings Unless…'
Graham later posted about Burton's death, first expressing sympathy for Fury's loss but then arguing that weapons aren't the reason people are dying—sinful human hearts who turn from God are.
"My deepest condolences to world heavyweight boxing champion Tyson Fury and his family as his 31-year-old cousin was stabbed in the neck and killed in Manchester, UK, yesterday. Tyson is asking the government there to come down harder on knife offenses," Graham tweeted.
RELATED: 'We Are Losing Our Freedoms'—Franklin Graham Blasts FBI for Raiding Former President Trump's Mar-a-Lago Residence
Graham continued, "You could take all the guns and all the knives away, but people would pick up a stone or use something else to destroy life. The trouble comes when the human heart turns away from God. We will never have an end to the killings—unless we turn from our sins and believe on Jesus Christ."
While many agreed with Graham's tweet, some expressed that they were tired of mere "thoughts" and "prayers."
"Enough with the thoughts and prayers. The time for action is now. For those that want to blame this problem on 'Godlessness,' you can step aside and let people who will take action get to work," one person commented. Someone else asked, "Yes, that is the ultimate solution. However, should we not do all we can to reduce the incidence as much as we can?"
Another commenter said, "Can't believe you used this person's death, to make a pro-gun choice comment. Shame on you."
Tyson Fury's Faith
In the past, Fury has been open about his faith, sharing how God has helped him during times of depression and substance abuse.