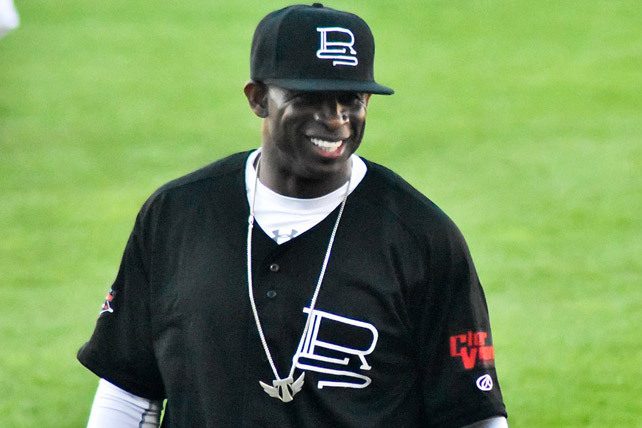 During a health scare last fall, NFL Hall of Fame cornerback Deion Sanders "got to really see God's face." Sanders, now the head football coach at Jackson State University, recently described how God grew his faith during a frightening ordeal.
Speaking to Chris Neely on "Thee Pregame Show," the former pro athlete recounted a lengthy hospital stay in September 2021 for blood clots and compartment syndrome. "I could have lost my life very easily," says Sanders, nicknamed "Prime Time." "So when I look up and say, 'Thank you, Jesus' it's because I know the quiet cries at night that were in that hospital."
Sanders, 55, needed to have two toes amputated. He recently tweeted, "I'm walking with a Limp but nevertheless I'm walking in MY PURPOSE!"
As Church Leaders has reported, Sanders came to faith—and turned his life around—after a 1997 suicide attempt. Once known for pursuing "Power, Money & Sex" (also the title of his autobiography), the athlete shifted his focus to faith and family.
Deion Sanders: Prayer, Praise, and Speaking in Tongues
For Deion Sanders, the past year has been "a tremendous ride," but he's grateful for the challenges and growth. "We may smell like the smoke because we've been through the fire," he tells Neely, "but I wouldn't change none of it. I needed it. I love it. I'm proud of it. I'm thankful for it. I got to really see God's face and the different personalities of God."
While hospitalized, Sanders was vocal about conversing with God—and received answers to his prayers. "I know all the speaking in tongues, and the prayer, and the fellowship of God, and the praising him through and through," he says. "I'm pretty sure that some of those nurses thought I was crazy." Yet no matter what people thought, Sanders adds, it was obvious that "he's saved."
During a 2014 appearance on Bear Grylls' reality TV show "Running Wild," Sanders prayed in tongues while climbing a steep cliff. In his autobiography, Sanders describes how "the enemy" had tricked him and materialism seduced him. But the athlete realized "you can't be happy if you don't have hope."
Deion Sanders: 'God Saw Me Through'
Deion Sanders, a father of five, is coaching two of his sons at Jackson State. When son Shedeur, the quarterback, requested his dad's presence on the sidelines last fall, Deion cut his recovery time short. "He's not a person that would waste words," says the coach of Shedeur, "so when he says something to that level of seriousness, I know."