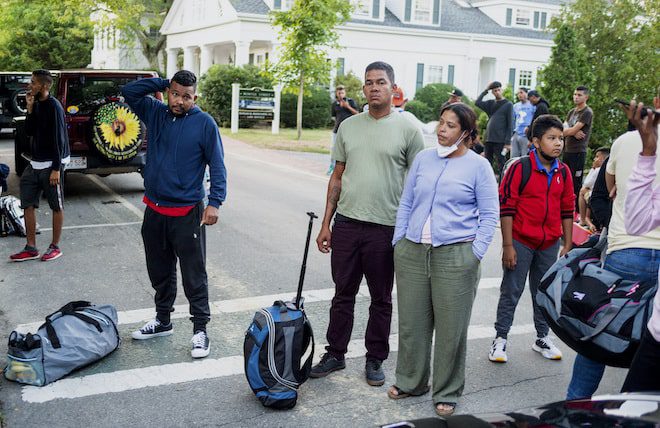 This week's unexpected transport of migrants from Republican governors in the South to Democrat-controlled areas in the North led to community action and heated discussions. Florida Gov. Ron DeSantis flew two planes of migrants to the upscale Massachusetts island community of Martha's Vineyard, while Texas Gov. Greg Abbott bused migrants to the Washington, D.C. residence of Vice President Kamala Harris.
The southern governors say their states are overwhelmed by illegal immigration and blame the Biden administration's policies. But critics—including some church leaders—say shipping people around to make a point isn't the solution.
On Thursday, President Joe Biden said, "Instead of working with us on solutions, Republicans are playing politics with human beings, using them as props. What they're doing is simply wrong, it's un-American, it's reckless."
Martha's Vineyard Residents Step Up to Care for Migrants
When migrants began arriving on the island Wednesday, the rector of St. Andrew's Episcopal Church in Edgartown, Massachusetts, was attending an out-of-state conference. From there, the Rev. Vincent "Chip" Seadale began directing efforts to open church doors to the newcomers. "Overnight they can sleep on the pews or in the parish hall on the floor," he said. "These are people just like me and you, and they need care and attention."
Before the migrants were moved Friday to a military base in Cape Cod, Martha's Vineyard residents donated so much food and clothing that town officials had to ask them to stop. But on social media, some locals began "turning on each other," one person tweets, "calling out their friends for not letting migrants in their summer homes."
Some people admit being conflicted about the tactic of transporting migrants. A Twitter user who describes himself as an "immigrant/refugee" writes: "We should welcome refugees. However often the folks voting for looser border laws seldom have to interact with the reality of those laws."
And Pastor Joshua Manning, whose Missouri town has a sizable immigrant population, tells the Associated Press although it's "dehumanizing" to treat people as "political props," the topic is tough. Areas and groups claiming to support asylum-seekers may not "see the difficulties of everything that's associated with that," he says.
Ed Stetzer on Immigration: 'Let's Fix the System'
In a statement, Outreach magazine editor-in-chief Ed Stetzer says, "Playing political games scores points, and the hypocrisy of the current immigration system is easy to point out. However, it does not solve the actual problems." Instead, he adds, "Let's fix the system and stop turning people into pawns of political one-upmanship."