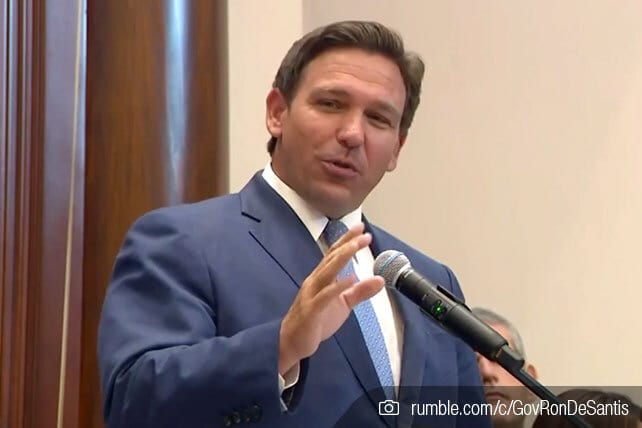 Florida governor Ron DeSantis has signed into law a bill requiring public school teachers in grades K-12 to observe at least one minute of silence at the beginning of the first class period of every day. 
"The idea that you can just push God out of every institution and be successful, I'm sorry, our founding fathers did not believe that," said DeSantis, speaking at a news conference at Shul of Bal Harbour in Surfside, Fla. "We have an opportunity here to really protect the religious freedom of everybody who's going to school K-12 in the state of Florida and we're really proud of that."
Gov. Ron DeSantis: It's Important
HB 529, which takes effect on July 1, states:
The Legislature finds that in today's hectic society too few persons are able to experience even a moment of quiet reflection before plunging headlong into the activities of daily life. Young persons are particularly affected by the absence of an opportunity for a moment of quiet reflection. The Legislature finds that our youth, and society as a whole, would be well served if students in the public schools were afforded a moment of silence at the beginning of each school day.
The bill requires all first period classroom teachers in public schools to set aside at least one minute, but no more than two minutes, of silence at the beginning of each school day. Students are not to disrupt the moment of silence for one another, and teachers are not to "make suggestions as to the nature of any reflection that a student may engage in during the moment of silence." Moreover, the bill instructs the teachers to encourage parents to discuss the moment of silence with their children. 
HB 529's sponsor is Rep. Randy Fine (R-Brevard), who claims to be the only Jewish Republican in the Florida House. DeSantis said, "We think it's something that's important, to be able to provide each student the ability, every day, to be able to reflect and to be able to pray as they see fit."
Opponents of the bill have voiced concerns over its implications for the separation of church and state, while proponents have countered that it is merely establishing a daily time of quiet reflection. However, Gov. Ron DeSantis clearly presented the bill in religious terms during the news conference. Lt. Gov. Jeanette Nunez reiterated that way of thinking, saying that HB 529 would "allow for religious freedom and allow for students to have a minute or two at the start of their day."
Rep. Omari Hardy (D-West Palm Beach) accused the bill's supporters of lying about their motives: "The Republican who sponsored the bill said that it wasn't about prayer in school. (Of course it was!) But when you question their motives, or their honesty, it's called a personal attack & deemed out of order. No. The Republicans lie, and we need to call them on it every time." 
One Twitter user responded to the news, saying, "I want to be annoyed about this, but if they aren't shoving a specific religion, what would a moment of self reflection hurt? Though there's much bigger things he [DeSantis] should be doing than pandering to his base."