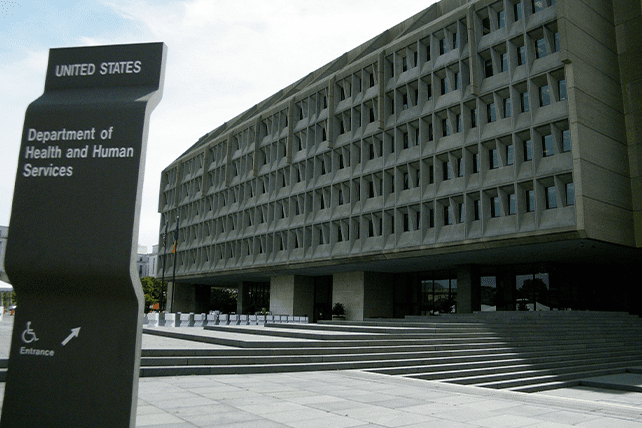 WASHINGTON (BP) – The Southern Baptist Ethics & Religious Liberty Commission has urged the Biden administration to retract a proposed rule it says would violate the consciences of individuals and entities that object to gender-transition procedures.
The ERLC filed public comments Monday (Oct. 3) with the Department of Health and Human Services (HHS) regarding a proposal the commission says would require medical professionals, clinics and hospitals to perform and health-insurance companies to cover procedures to which they object.
The ERLC's letter expressed opposition to the HHS revision of a section of the 2010 Affordable Care Act. The proposed change, announced in late July, would bar discrimination on the basis of sex, which HHS defines as including sexual orientation and gender identity. The reinterpretation of sex discrimination would also include "pregnancy termination" or abortion.
The proposed HHS regulation would largely revive a 2016 rule that became known as the "transgender mandate." The Trump administration issued a rule in 2020 that rescinded the Obama-era policy by restoring the ordinary interpretation of the word "sex."
During the public comment period, it was reported that staff members of Vanderbilt University Medical Center (VUMC) were warned in the past that conscientious objection to transgender surgeries, including on minors, "is not without consequences."
Hannah Daniel, the ERLC's policy manager, said upon the commission's filing of comments on the proposed HHS rule, "Despite our culture's rapid shift on issues of gender and sexuality, Christians hold fast to our belief that God's design is both intentional and ultimately for our good. It is unthinkable that people of faith may be forced to participate in actions that go directly against their most deeply held religious beliefs."
The proposed regulation "shows a complete disregard for the legitimate moral, religious and medical concerns of health-care professionals and insurance providers surrounding gender transition services, and the ERLC urges the department to withdraw this harmful rule," she told Baptist Press in written remarks.
In the public comments, ERLC President Brent Leatherwood focused on the transgender-care requirements in urging HHS' Office for Civil Rights to rescind the rule.
"Requiring medical care providers and insurance companies to perform or cover gender affirming procedures or undermining their ability to approach the issues of sexual orientation and gender identity as required by their religious beliefs should not be seen as an acceptable outcome for any policy," he wrote.
Religiously based hospitals typically serve lesbian, gay, bisexual and transgender (LGBT) patients, but "providers who hold moral or religious beliefs cannot perform every procedure a patient requests," Leatherwood wrote. HHS' judgment that opposition to "gender transition or gender-affirming care" is not "a sufficient basis" for deciding it "is not clinically appropriate" demonstrates "a complete disregard for the very real religious and evidence-based beliefs of many highly skilled" health-care professionals, he wrote.
Leatherwood expressed "grave concerns" the rule makes no distinction between gender transitions for children and for adults. He described it as "unthinkable" to coerce medical providers to perform or insurance companies to cover "puberty blockers, hormonal therapies and the abhorrent practice of gender reassignment surgical interventions for a child under 18 who does not have the capacity to consent to such life-altering 'treatments.'"
While citing The Baptist Faith and Message, Southern Baptists' statement of faith, Leatherwood said the proposed regulation "fundamentally hinders the good and flourishing of our neighbors in expanding beyond the biblical truth of binary sexes and biological realities. … [I]t actually undermines the human dignity of our fellow citizens."