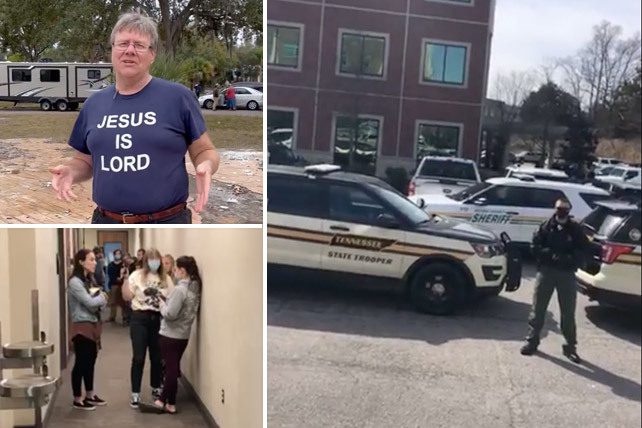 Following an investigation, 11 people face federal charges for allegedly interfering with access to a Mount Juliet, Tennessee, abortion clinic called CaraFem in March 2021. On October 5, a federal grand jury in Nashville indicted the individuals with violating the Freedom of Access to Clinic Entrances (FACE) Act. The 1994 act, signed by President Bill Clinton, prohibits even temporary interference with reproductive health care services.
Seven people face conspiracy charges and face up to 11 years in prison and up to $250,000 in fines. The other four, charged with misdemeanors, face up to one year in prison and up to $10,000 in fines. All defendants will appear in U.S. district court in Nashville; dates are to be determined.
CaraFem: Anti-Abortion Protesters Charged With Blocking Access
According to a Department of Justice press release, the "co-conspirators" used social media to promote and coordinate a "blockade" of CaraFem, a Nashville-area abortion clinic. Protesters, the indictment says, "used force and physical obstruction to injure, intimidate, and interfere with employees of the clinic and a patient who was seeking reproductive health services." The DOJ says protesters described their actions as a "rescue."
Participant Coleman Boyd, a pro-life doctor from Mississippi, streamed the event on Facebook Live. While filming protesters' arrests, he quoted Scripture and requested prayers that "people's hearts would be stirred up and convicted" and that their eyes would be opened "to the reality that babies are being murdered here."
The doctor, who has been arrested for pro-life activities in other states, added that "God's judgment is on us, and his wrath is coming." He urged listeners to "act as the church of Jesus Christ" before God gets "tired of relenting" and closes the window giving us a chance to repent. Boyd is one of the seven protesters now facing conspiracy charges related to the March 2021 incident.
CaraFem sought a temporary restraining order against 10 protesters in early August 2022. Later that month, after Tennessee's "heartbeat bill" banned abortions after about six weeks of pregnancy, CaraFem stopped performing the procedures.
Charges Against Protesters Spark Reactions
Since Wednesday, abortion opponents have been sharing news of the charges. Pro-life advocate Lila Rose tweets that "the home of pro-life activist Chet Gallagher was raided by the FBI, guns drawn, over his peaceful activism to save preborn children."
While retweeting Rose, the Reproductive Rights Coalition writes: "Breaking: lifetime clinic harasser and terrorist has finally gotten a small consequence. Blocking clinics and harassing patients and staff is not and has never been 'peaceful activism.' The federal government is finally enforcing the FACE act and [it's] freaking them out."
Rose's organization Live Action spoke to a pro-life activist who describes a "new tactic the DOJ has been throwing at pro-lifers to see if the charges stick." A.J. Hurley says, "The FBI isn't even performing the investigations. The DOJ is doing their own investigations and…sending local branches of the FBI with arrest warrants to be their strong arm."