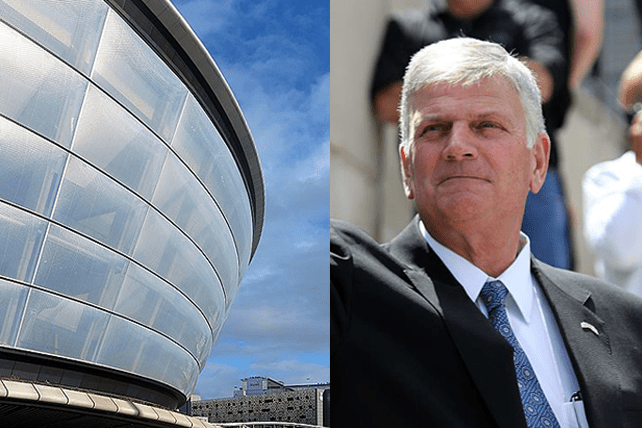 On Monday (October 24), a Scottish court ruled in favor of the Billy Graham Evangelistic Association (BGEA) in a lawsuit against Scottish Event Campus Limited (SEC), which canceled an evangelistic event at the Hydro Arena in Glasgow featuring Franklin Graham in 2020 on the grounds of Graham's stated beliefs about human sexuality and Islam. 
Sheriff John N. McCormick ruled that SEC would be obligated to pay over $111,000 (£97,000) for violating the UK's Equality Act. 
SEC was one of seven UK venues that canceled BGEA events, part of Graham's "God Loves You" tour, in January 2020 after facing pressure from LGBTQ+ advocates. Multiple groups argued that Graham's public remarks regarding LGBTQ+ issues and the Muslim faith constituted dangerous hate speech. 
Graham, who is the son of legendary evangelist Billy Graham and president of BGEA, has often publicly rebuked LGBTQ+ values and has referred to the Muslim faith as "wicked and evil." 
RELATED: 'We Would Be Facing an Armageddon'—Franklin Graham Urges Christians To Pray After Putin Threatens To Use Nuclear Weapons
In his Monday ruling, McCormick wrote, "Briefly put, if it is correct that the event was evangelistic, based on religion or philosophical belief, then it follows that the decision to cancel was a breach of the Equality Act 2010 in that the event was cancelled as a commercial response to the views of objectors."
McCormick ruled that SEC had discriminated against BGEA "on the basis of a protected characteristic" and would be required to pay $111,503.19 (£97,325.32) in damages. 
Though SEC argued in the case that the cancellation of the event came in light of concerns regarding protests and security, McCormick ruled that these concerns were not the sole reason for the cancellation. While SEC's board did discuss security concerns, they never raised these concerns when meeting with Glasgow City Council. 
"I heard no evidence to suggest that Franklin Graham had intended to pursue a toxic or dangerous agenda at the event. On the contrary, it is not disputed that the event would have been an evangelical outreach event for up to twelve thousand people," McCormick wrote. "That is not to say that his opinions are not offensive to some whether in Glasgow or elsewhere. However, the pursuer's right to engage a speaker at the evangelical event — in furtherance of a religious or philosophical belief — is protected by law."
According to the Christian Post, Graham said that he is "grateful to God for this decision," viewing the ruling as "a clear victory for freedom of speech and religion in the UK."
RELATED: Did Franklin Graham Use Heavyweight Boxing Champion's Family Loss To Promote Pro-Gun Legislation?
Graham further stated that the lawsuit was not about receiving a settlement but "about the preservation of religious freedom in the UK."