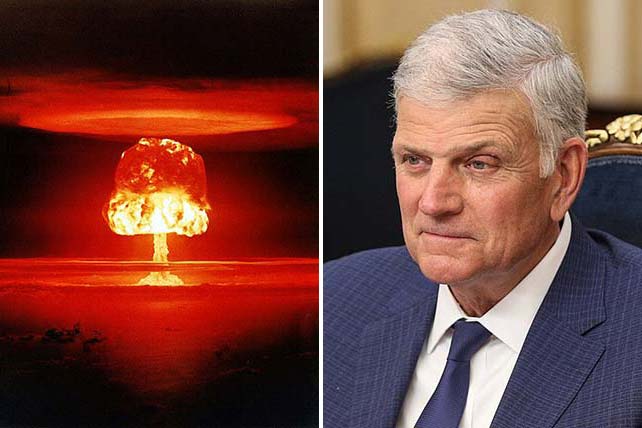 Agreeing with President Joe Biden's recent Armageddon comment, Franklin Graham, president of Samaritan's Purse and the Billy Graham Evangelistic Association, placed an urgency on prayer regarding Russia's potential use of nuclear weapons against Ukraine.
President Biden spoke about the increasing threat of nuclear weapon use by Russian president Vladimir Putin in his war against Ukraine during a fundraiser event in New York city last week (Oct. 6).
"We have not faced the prospect of Armageddon since Kennedy and the Cuban missile crisis," Biden said. "I don't think there's any such thing as the ability to easily [use] a tactical nuclear weapon and not end up with Armageddon."
RELATED: Franklin Graham Calls Out Evangelical False Teachers in Pastor Survey
Biden described Putin's talk about using nuclear weapons as serious.
"He is not joking when he talks about potential use of tactical nuclear weapons, or biological, or chemical weapons. Because his military is, you might say, significantly underperforming," Biden explained.
On Saturday morning (Oct. 8), Graham agreed with Biden's comments and said that today's world is as dangerous as he's ever seen it.
"I'm 70 years old, and there has never been a more dangerous time during my lifetime than we are living in right now," Graham tweeted. "President Biden is absolutely right when he said that the threat of President Putin using nuclear weapons is very real, and we would be facing an Armageddon."
RELATED: Conservative Baptist Network, Franklin Graham Warn Christians Not To Support Disney's LGBTQ 'Agenda'
Graham urged Christians to pray that peace would be found for all the leaders involved in Russia's war on Ukraine.
"Every person who believes in God and His Son, Jesus Christ, needs to be praying," Graham encouraged. "Pray for the leaders involved, that God will work in their hearts and that a path to peace will be found. With each passing day it seems more difficult, but God can show up!"