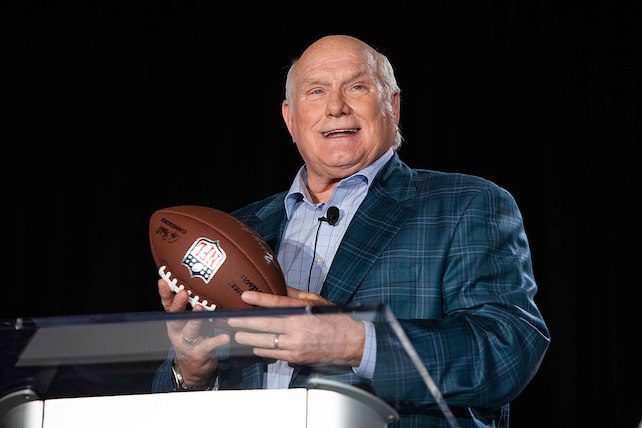 After initially keeping two cancer diagnoses quiet because he didn't want anyone's "pity," football great Terry Bradshaw is opening up about the ordeal. The 74-year-old Hall of Fame quarterback, who won four Super Bowls with the Pittsburgh Steelers, recently shared how his Christian faith and his wife helped him through the medical scares.
Terry Bradshaw Faced Cancer Twice in One Year
In late September, Terry Bradshaw became breathless during a "Fox NFL Sunday" broadcast. After viewers wondered "What's wrong with him?"—with some calling him "an embarrassment"—he went public with his health news the following Sunday. Then on November 2, Bradshaw appeared on NBC's "Today" show, speaking to interviewer Harry Smith about the experience.
Last November, Bradshaw had surgery after being diagnosed with bladder cancer. That incident didn't really scare him, he admits. When Smith points out that the former QB is "bigger than life," Bradshaw replies, "Well, cancer didn't think so. … Listen, cancer shows no favoritism."
Being a Christian provided strength during his ordeal, says Bradshaw. "As a man of faith, as a Christian, my attitude was, 'Well, if I go, I'm okay. If I stay, I'm okay.'"
When doctors found an unrelated tumor in his neck in March 2022, Bradshaw admits being more frightened. The rare form of skin cancer also required surgery, and Bradshaw says he's now cancer-free and feeling great.
Terry Bradshaw: God's Spirit Took Control of Me
Although the football analyst initially kept his diagnoses from his family, he says he couldn't have made it through treatment and recovery without them. Bradshaw, who has previously joked about his numerous divorces, credits Tammy (wife number four) for her support.
"I can't put into words how thankful I am for her," he says of Tammy. "Seriously. I can't imagine not holding her hand when we take off on a plane or when we land or when we snuggle up when we're in bed together. I look at her and she doesn't know I'm looking at her, and I'm so thankful now I'm getting emotional."
Tammy Bradshaw, who worked for a decade as a radiation therapist, admits carrying "a lot more worry and stress than what I let him know and think" about the cancers. Tears flowed, she says, but never in front of her husband.
The couple recently downsized their quarter-horse operation so they can travel more. Bradshaw admits he doesn't want to put off those plans anymore. "I may have 25 or 30 years left," he tells Harry Smith while chuckling, "but I'm gonna act like I got one!"