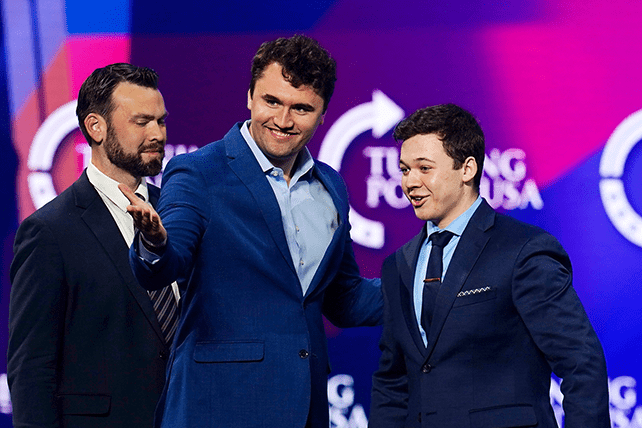 (RNS) — Phoenix pastor Caleb Campbell has a theory about the growing number of Americans who are labeled as Christian nationalists.
Most would rather go to Cracker Barrel than storm the Capitol.
Many see themselves as good Christians who love their country. But somewhere along the way, they began to think being a good American and being a Christian were one and the same.
"Their whole life has been the intermingling of their American civil religion and their Christian religion," said Campbell, pastor of Desert Springs Bible Church and a self-described missionary to Christian nationalists.
To help his fellow Christians make a clearer distinction between their faith and their identity as Americans, Campbell founded a group called Disarming Leviathan and spent the last year reading Christian nationalist books and attending events like Turning Point USA's monthly Freedom Night in America, held at a Phoenix megachurch.
He also signed up to teach a "biblical citizenship class" run by Patriot Academy, founded by Rick Green, a former Texas state legislator turned Christian "Constitution coach." The class mixes details about America's founding and the Constitution with Bible verses and conservative politics.
God-and-country patriotism remains popular in the United States, according to a recent report from Pew Research. Nearly half of Americans (45%) believe America should be a Christian country, including 78% of white evangelicals and 62% of Black Protestants.
Though few want the U.S. government to adopt Christianity as the country's official religion, according to Pew, many Americans fear religion is losing influence in the culture. That fear, says Campbell, has led a growing number of his fellow believers to embrace a more extreme form of God-and-country patriotism, one more focused on winning the culture war than following Jesus.
Campbell expected many of the people in Christian nationalist settings he met to be angry political partisans. But instead, most were good-hearted people who thought they were doing the right thing for God.
"That was an aha moment," he said.
At the time, Campbell had been focused on arguing with Christian nationalists, trying to convince them their ideology — popularized by politicians, pastors and online activists — is incompatible with the teachings of Jesus. But that approach did not work. He began to think of them as "Aunt Betty" — a loved one who is misguided and fearful.
"Aunt Betty is watching a whole generation of Americans deconstruct their American civic religion, and it's freaking her out," he said.