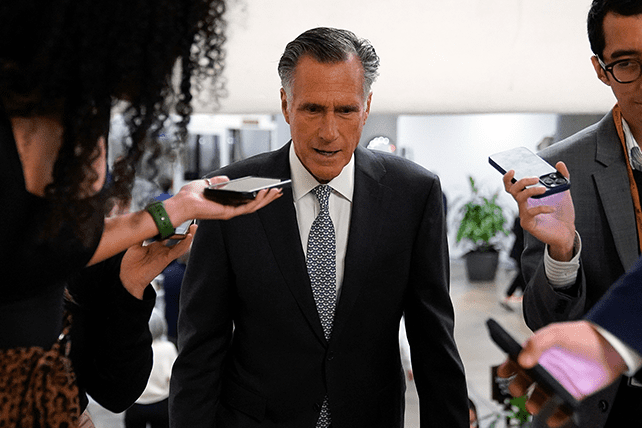 (RNS) —  In the summer of 2008, leaders in The Church of Jesus Christ of Latter-day Saints drew a line in the sand against same-sex marriage, urging Mormons in California to do all they could to support Proposition 8, a referendum that would restrict marriage to heterosexual couples in the state via a constitutional amendment.
"Our best efforts are required to preserve the sacred institution of marriage," the church's First Presidency wrote in a letter read to all California Latter-day Saint congregations that June.
Voters narrowly approved Proposition 8, but their victory proved short-lived. A California court ruled that any ban on same-sex marriage was unconstitutional.
The church's public image took a beating, said Benjamin Park, a scholar of Mormonism at Sam Houston State University. "Church leaders recognized the writing on the wall," said Park.
The defeat led LDS leaders to back the Respect for Marriage Act, a bill that would protect same-sex marriage that Congress is now expected to pass this week with bipartisan support. In Wednesday's 62-37 vote in the U.S. Senate to end debate on the bill and advance it, Republican Sen. Mitt Romney of Utah was among the yeas.
The LDS' backing of the bill, which came as a surprise to many who haven't followed the church's history, didn't stem from their disappointment over Prop 8 alone. After the Prop 8 fiasco, church leaders converted to a strategy of compromise on LGBTQ rights, at least in the public square, said Park. They saw that expanding rights for same-sex couples could also provide protection for religious groups.
That realization eventually led to the so-called Utah compromise of 2015, in which LDS leaders backed an anti-discrimination law to protect LGBTQ people in Utah that carved out religious liberty protections.
The current bill, Latter-day Saint leaders said, also guarantees the rights of both LGTBQ Americans and religious groups with more traditional views of marriage.
"We believe this approach is the way forward," church leaders said in a statement Tuesday (Nov. 15). "As we work together to preserve the principles and practices of religious freedom together with the rights of LGBTQ individuals, much can be accomplished to heal relationships and foster greater understanding."
Park said the Latter-day Saints realized that their support for nondiscrimination creates the social capital needed to protect the rights of churches to govern their own affairs.
Other religious leaders who believe that same-sex marriage is sinful took a different approach.
Catholic bishops have labeled the Respect for Marriage Act a threat to both marriage and religious liberty and claimed in a letter this past summer that it could open the door to legalizing polygamy.