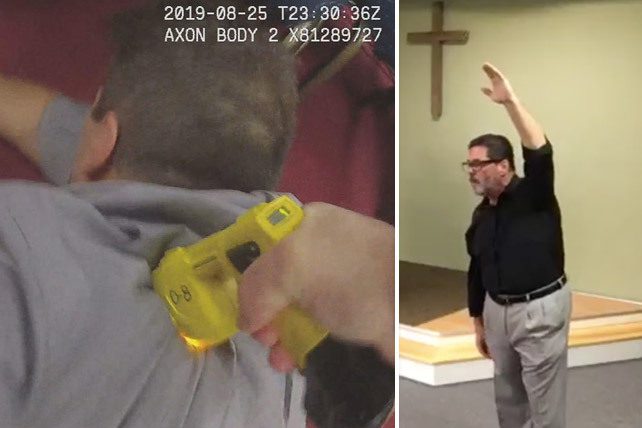 Rev. Joseph Rizzuti Sr., who was tased by a police officer in 2019 and recently acquitted of charges including assault and battery on a police officer, has with family members filed a civil suit against members of the Worcester Police Department (WPD) in Worcester, Massachusetts. On Tuesday, the U.S. Department of Justice (DOJ) announced it had opened a pattern or practice investigation into the WPD.
"Our only relief and comfort from this whole thing has come from the Lord," Rizzuti Sr.'s son, Joseph Rizutti Jr., told CBS. Rizutti Jr. was also arrested and charged in relation to the 2019 incident. He was acquitted as well. Both men are pastors at Cornerstone Bible Baptist Church, now located in Auburn, Massachusetts. 
Worcester Police Department Officers Have Altercation With Pastor 
On Aug. 25, 2019, Worcester Police Department officers responded to a custody dispute at 78 Waverly St. in Worcester, Massachusetts, where Cornerstone Bible Baptist Church was located at the time.
The dispute involved Rizzuti Sr.'s daughter, Rachael Rizzuti, who allegedly had not returned her 11-year-old daughter to the girl's father. According to the civil suit filed Aug. 23 by Rachael Rizutti, Rizutti Sr., Rizutti Jr. and Rizutti Jr.'s wife, Karissa Rizzuti, Rachael refused to give her daughter to Worcester Police Officer Diony Nunez on the grounds that he did not come with any updated court orders. 
The Rizzuti family's account of how the incident unfolded differs from the account of the officers. Police say that Rizzuti Sr. interfered with their attempt to resolve the custody situation. Officer Michael Cappabianca Jr., whose body camera caught 15 minutes of footage of the incident, said in court documents that Rizutti Sr. was yelling and calling him a "f***ing tyrant."
When the pastor refused to calm down, Cappabianca says he tried to place him under arrest for disturbing the peace. Rizutti Sr. resisted, running from the officer and slamming the door in his face. In the church building, Cappabianca attempted to subdue Rizutti Sr. by tasing him. The officers say that Rizzuti Jr. interfered with the arrest of his father, so they arrested him as well. 
The plaintiffs in the civil suit, which also names the City of Worcester as a defendant, say that Rizutti Sr. had turned to go inside the church when Cappabianca attacked him. Rizzuti Jr. says that Cappabianca pushed him aside while chasing his father and that Nunez later punched Rizzuti Jr. in the face. 
The plaintiffs also disagree with officers' account of how police treated Rizutti Jr.'s wife, Karissa, who was pregnant at the time. Officers say they arrested Karissa after she attempted to run away with her husband's belongings after the belongings were in possession of officers. Karissa claims that she was simply attempting to take her husband's possessions when officers punched her, threw her down and stepped on her stomach and back.