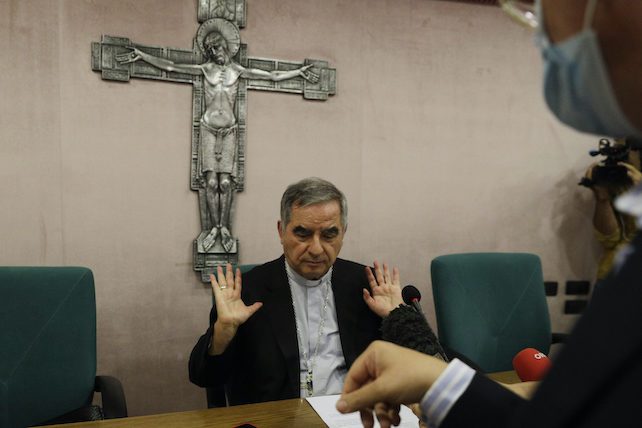 VATICAN CITY (RNS) — Vatican prosecutors announced a new investigation of Cardinal Angelo Becciu, a formerly high-ranking Catholic church official already on trial on charges of financial mismanagement and corruption, alleging that the disgraced cleric illegally recorded a conversation with Pope Francis.
A recording of a conversation between the pope and Becciu was presented to Vatican judges Thursday (Nov. 24) by the chief Vatican prosecutor, Alessandro Diddi, who described it as "disturbing" evidence that the cardinal was attempting to coerce the pope to say something that could have redeemed him at the trial. The new investigation would add a charge of criminal conspiracy to his slate of alleged offenses.
The recording, dated July 24, 2021, was made three days before the start of a trial in which Becciu is one of 10 defendants involved in a controversial and costly real estate deal that lost, at last count, as much as 20 million euro. Becciu is charged with abuse of office, embezzlement and witness tampering in the purchase of a luxury apartment complex in London.
The conversation also took place just a day after Francis was released from the Roman hospital, Policlinico il Gemelli, after invasive colon surgery. Diddi pointed out that the pope's answers in the conversation were short and confused, arguing that Francis was clearly "tired" from the operation.
"You have already condemned me, it's useless to go to trial," Becciu told the pontiff in the recorded phone call, referring to a letter he received from Francis in which the pope presented him with the charges by Vatican prosecutors. The cardinal then asked Francis to confirm that he authorized the expenditure of 500,000 euro for an agency to negotiate the liberation of a nun who had been kidnapped in Mali.
"See, I recall that I informed you about all of this … remember?" Becciu said, according to the transcript of the conversation published by Italian news outlet Adnkronos.
Vatican prosecutors claim that Becciu sent 575,000 euro to Cecilia Marogna, a self-proclaimed international relations expert who spent the Vatican money on luxury goods and spa treatments. Marogna, known as "the Cardinal's Lady" in the Italian press, is never mentioned in the conversation with the pope.
The recording is part of a series of documents and evidence collected by the financial police in Becciu's native region of Sardinia.
Becciu also asks whether Francis intended to remove a seal of pontifical secrecy on the Vatican's international dealings, including ransoms paid for its clergy. "This is your decision Holy Father, I won't force you if we won't observe the pontifical secret," he said.
In the recording, the voices of Becciu's niece, Maria Luisa Zambrano, and an unidentified man can be heard listening in on the conversation. Prosecutors claim that their presence violates Vatican secrecy laws.