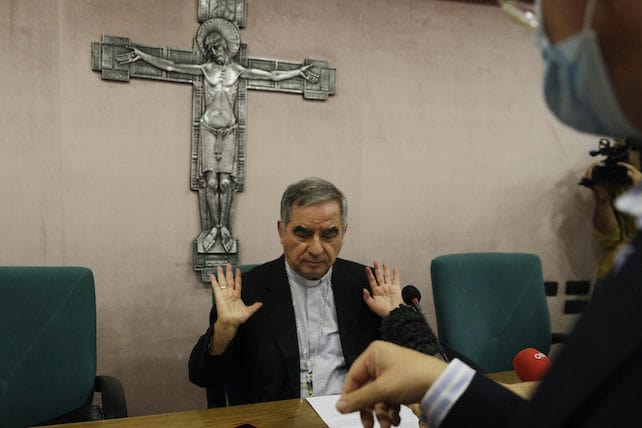 VATICAN CITY (RNS) — Cardinal Angelo Becciu laid out his version of events at the heart of the Vatican's megatrial about the purchase of real estate in London using a charitable fund, touching in his testimony on his rivalry with Cardinal George Pell and his relationship with Italian political analyst Cecilia Marogna.
As he has over the past two years, Becciu, formerly the Vatican's third-highest-ranking official and the first cardinal in memory to face trial at the Vatican, claimed he is bewildered by the accusations against him of embezzlement, witness tampering and abuse of office.
"I was thrown on the front page of newspapers, almost like a monster," Becciu said. "For over a year and a half I am tormented by one question: Why? Why have these defamatory things been said to the pope?"
Besides the charges in the real-estate matter, Becciu faces accusations that he misdirected funds belonging to the Italian bishops' conference and the Secretariat to a charitable organization in Sardinia run by his brother Antonino. It's also been alleged that he sent thousands of dollars to Australia to spur on charges of sexual abuse against Pell, whom Pope Francis had appointed as a financial watchdog. (Pell was eventually acquitted on appeal.)
Becciu denied both accusations, saying, "None, not even one of my relatives enriched themselves" with the money sent to Sardinia.
He said the payment that went to Australia was used to buy an internet domain and showed the court a letter signed by Secretary of State Cardinal Pietro Parolin to support his claim. Becciu also claimed that Pell himself signed the authorization for the payment, adding that he was "sorry that Cardinal Pell has stumbled into this misunderstanding."
RELATED: Pope Francis says NATO, 'barking at Russia's door,' shares blame for Ukraine
It was the accusation about Sardinia, Becciu said, that Francis primarily confronted him about during the audience that led to Becciu's being stripped of all but his title of cardinal in September 2020 — "the mother of all my misfortune," he termed it.
Becciu served as substitute, equivalent to deputy chief of staff, in 2014 when the Vatican's Secretariat of State embarked on the purchase of an apartment complex in London's Chelsea neighborhood, using funds from Peter's Pence, comprising contributions from Catholics around the world to the pope's charitable work.
The deal proved ruinous, losing a staggering $384 million, according to Vatican prosecutors. Becciu is among 10 defendants at trial, who prosecutors say had a part in the purchase and who have been accused of crimes ranging from misuse of their offices to money laundering.
Becciu's testimony lasted for more than two hours, much of it revealing the inner workings of the Secretariat of State's financial operations and the thinking behind the deal.