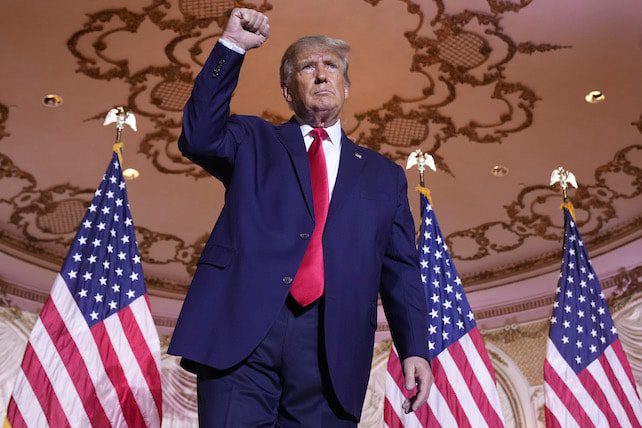 (RNS) — In his biweekly email to evangelical Christian pastors, David Lane, a political operative based in Texas and leader of the American Renewal Project, described former President Donald Trump as out of touch, driven by personal grievances and self-importance.  
"Unfortunately, the former president's penchant for settling political scores and his compulsion to keep the spotlight upon himself have both become threadbare and trite," Lane's email said.
Titled "Why did the red wave die on the vine?," the email was sent Tuesday (Nov. 29) to some 70,000 subscribers of the American Renewal Project, which is dedicated to mobilizing evangelical pastors to run for office.
Lane's email was a sign of a growing willingness on the part of evangelicals to criticize the former president. In Trump's 2016 run for the White House and throughout his failed 2020 campaign, white evangelicals were his most stalwart supporters, with about 80% of white evangelicals voting for him. Despite leaked tapes capturing sexual indiscretion and the rank and file's general reluctance to describe him as morally upstanding, ordained evangelicals especially presented a near united front in support for Trump.
In the weeks since Trump announced he is running for election again in 2024, however, it appears something has changed.
Lane lauded Trump's accomplishments in his email, including his "blue-collar patriotism" and "his fight to place constitutional traditionalists on the U.S. Supreme Court and U.S. Courts of Appeals."
But Lane added, "His vision of making America as a nation great again has been put on the sidelines, while the mission and the message are now subordinate to personal grievances and self-importance."
RELATED: As Trump launches new presidential bid, will former faith advisers back him?
Lane isn't the only one to take a step back.
Shortly after Trump announced he was running again, Robert Jeffress, pastor of Dallas' First Baptist Church and one of his evangelical advisers during the 2016 campaign and a longtime supporter, said he wasn't going to endorse the former president unless or until he became the Republican nominee.
Mike Evans, a Christian Zionist activist from Texas and another former member of the evangelical advisory board, went so far as to tell The Washington Post he would not vote for Trump again. Evans recalled how he once left a Trump rally "in tears because I saw Bible believers glorifying Donald Trump like he was an idol."