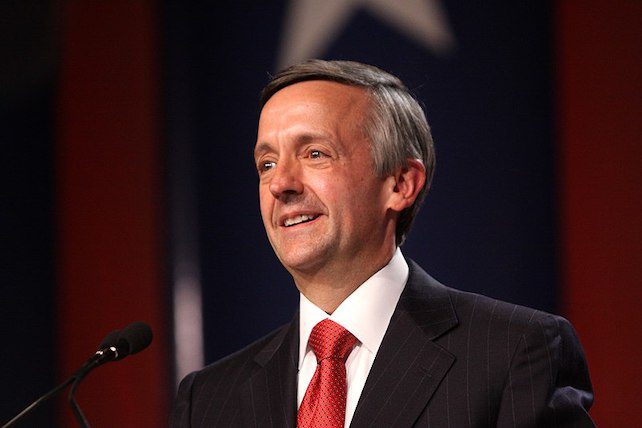 Robert Jeffress, pastor of First Baptist Dallas church in Dallas, Texas, believes that conservative Christians will turn out to vote in record numbers at the upcoming midterms this November. Jeffress appeared this week on "Fox & Friends First," where he said the high turnout he anticipates will be in reaction to what conservatives see as "the rotting decay of the culture." 
"There is a level of concern I've never seen before about what [conservative Christians] perceive to be the rotting decay of the culture," said Jeffress, "specifically the leftist agenda that liberals are trying to cram down the throats of Americans and especially American children." 
Robert Jeffress Predicts Record Numbers 
Pastor Robert Jeffress is a contributor to Fox News and has been a vocal supporter of former president Donald Trump. On Sunday, Dec. 20, 2021, Trump spoke at First Baptist Dallas after Jeffress concluded his sermon. Congregants gave the former president a standing ovation at the end of his speech, with some chanting "U.S.A! U.S.A.!" Afterward, the church's executive pastor gave a disclaimer stating that First Baptist does not endorse any particular political candidate. 
RELATED: Ed Stetzer: The Church and Donald Trump: We Need Christ at the Center of Our Services, Not Democrats, Republicans or Any Other Politician
When asked on "Fox & Friends First" about the Biden administration's Task Force on Reproductive Healthcare Access and what roles abortion and religion will play in the upcoming midterm elections, Jeffress said that voters tend to be most concerned about issues that impact their daily lives. Such concerns include gas prices, interest rates, crime and the border. 
The pastor does believe, however, that "conservative Christians are interested in some other things too," namely the moral decline they see in the United States. "And I believe they're going to turn out in record numbers during the usual sleepy midterms," said Jeffress, "not because they love the Republican Party, but because they hate the godless agenda of the Left." 
In July of this year, Jeffress said that the moral decay evident in our country is a result of the separation of church and state. Some politicians, such as Colorado Rep. Lauren Boebert, have recently been vocal about criticizing the concept of separation of church and state.
During the interview, Jeffress discussed his new book, "18 Minutes with Jesus: Straight Talk from the Savior about the Things That Matter Most," and also shared his thoughts on the suffering people are experiencing in the aftermath of Hurricane Ian. In such times, people wonder why a loving God would allow so much destruction, but the pastor explained that "hurricanes, devastation, death" were never something God wanted for this world and won't be part of "the next world that awaits Christians."