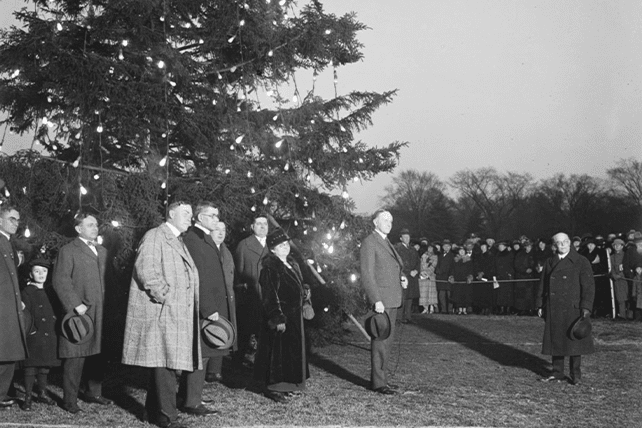 (RNS) — It was Christmas Eve in 1923.
A church choir sang, Marine band members played and the president of the United States pressed a button to light the first National Christmas Tree under the gaze of thousands of onlookers.
For 100 years, the tree has represented a symbol of civil religion as Americans mark the Christmas season.
On Wednesday (Nov. 30), President Joe Biden is set to do the honors just as President Calvin Coolidge did at that first lighting, and contemporary gospel singer Yolanda Adams is slated to sing for the crowds gathered on the Ellipse in the shadow of the White House.
Though the tree was not lit from 1942 to 1944 — due to the Second World War — it is the second-oldest White House tradition, after the Easter Egg Roll, which began in 1878.
"A hundred years is a fairly significant milestone to reach for consistently practicing a tradition," said Matthew Costello, senior historian of the nonprofit White House Historical Association. "This is really part of the customs and the traditions of the White House and living in the White House."
Whether the tree will continue as a symbol of civil religion — a Christian tradition, yes, but also a generic celebration of the holiday known for Santa and reindeer — is an open question, said Boston University professor of religion Stephen Prothero. In the wake of the Jan. 6 attack on the Capitol, the tree's intersection of politics and religion may be seen as too fraught.
"At this point, these Christian symbols in the public square feel very different to me and to many other Americans, than they have in the past," he said. "And that's precisely because of the increasing power of white Christian nationalism in American society."
Already, the tree can seem like a relic of an America that is now past. "You would think, based on separation of church and state, that the federal government wouldn't get into the Christmas tree business, but we have been doing these kinds of things for a long time," Prothero said.
But the tree has always been part of America's balancing act of alternately welcoming or rejecting religion in the public square. "It used to be that there was a kind of a gentleman's agreement — and I say, gentleman on purpose, because it was men who were making this agreement — and the agreement was that you could have religious symbols in the public space, but that they would have to be generic, that they wouldn't be explicitly Christian."
Here are five faith facts related to the National Christmas Tree:
1. It's been a place for God-talk by Democrats and Republicans.
In 1940, before the U.S. entered the conflict in Europe, Franklin D. Roosevelt used the tree lighting to condemn the war, referring to the Beatitudes of Christ, and urging "belligerent nations to read the Sermon on the Mount," a National Park Service timeline notes.