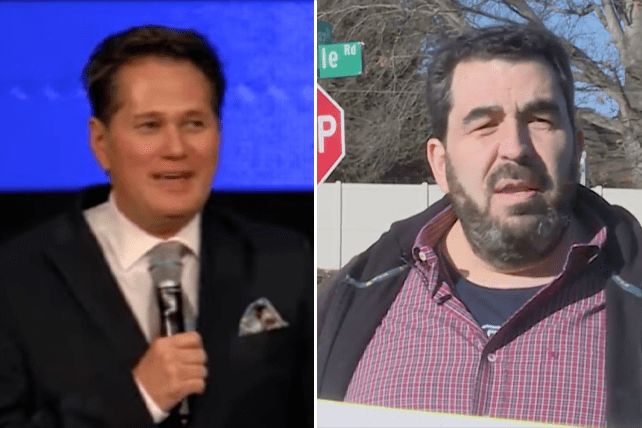 On Sunday (Dec. 18), protesters gathered outside Rock Church International in Virginia Beach, VA, to call upon the church to remove pastor John Blanchard. Blanchard was one of 17 men arrested last year in a prostitution sting operation, wherein Blanchard allegedly solicited sex from an undercover officer whom Blanchard believed to be an underaged girl. 
Blanchard's charges were recently dropped at the request of prosecutors, but they can refile the charges at a later date if they feel they have enough evidence against Blanchard. 
Following Blanchard's first appearance onstage at Rock Church since his prostitution charges were publicly revealed in Nov. 2021, protesters are calling on the Chesterfield Commonwealth Attorney to prosecute Blanchard and for Blanchard to resign or be removed from leadership at Rock Church.
RELATED: Virginia Pastor Arrested in Prostitution Sting Appears Onstage at Church Two Days Later
Sebastian Pignato, who organized the protest, told WAVY that the goal of the demonstration was to "give voice to the victims and to bring attention to the public."
"[Blanchard] wants to claim he is innocent. Let's see about it in the court of law," Pignato said. "We want to hopefully get the attention of the Commonwealth Attorney, The Chesterfield Commonwealth Attorney, so she will wake up and prosecute this man."
Regarding Blanchard's recent return to the pulpit, Pignato said, "A grievance this big the pastor needs to go…The church, in particular, they are the ones who hold the keys to making this man step down."
Though Blanchard's charges were dropped, Virginia State Delegate Tim Anderson, a lawyer and politician representing the Virginia Beach area, was quick to point out that Blanchard was far from exonerated. 
"Maybe he would or would not be found guilty in a court with reasonable doubt," Anderson said at the time. "But innocent, as in nothing happened, he was never there? No way."
In his return to the pulpit earlier this month, Blanchard continued to maintain his innocence, alleging that he has been the victim of an attack on his character and promising that he would fight back through litigation. 
RELATED: Charges Against Virginia Pastor of Soliciting Sex With a Minor Dropped
"John chapter 10, verse 10…tells us that the accuser has sought to do three things…to steal, kill, and destroy. But by God's grace, our faith has stood and we're still standing in the midst of every attack," Blanchard told Rock Church on Dec. 4. "Over the past several months, I've been the subject of vicious and inhuman accusations. These statements are demonstrably false. You can dress up a lie, you can twist it, you can misrepresent it, but I'm sorry—a lie is still a lie."