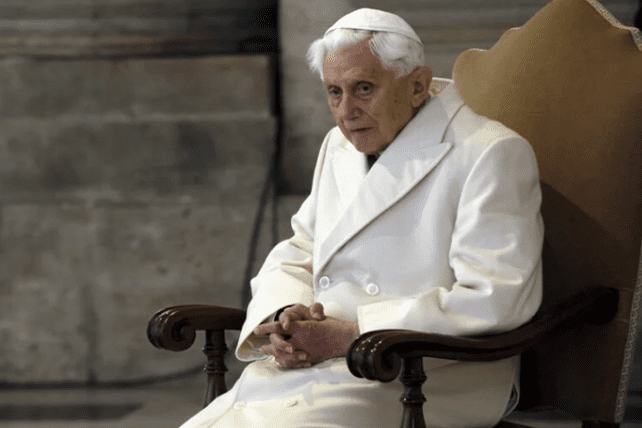 VATICAN-CITY (RNS) – Emeritus Pope Benedict XVI is "very sick," Pope Francis said at his weekly audience in St. Peter's Square on Wednesday (Dec. 28), and requested prayers for his predecessor, who is 95 and stepped down as pope in 2013.
"I would like to ask all of you for a special prayer for Emeritus Pope Benedict, who is sustaining the church in silence," Francis said before closing the audience.
"Let us remember him — he's very sick — asking the lord to console him, sustain him in this witness of love to the church, until the end," he added.
The 95-year-old Benedict rattled the church and the world when he suddenly announced that he was stepping down as pope after eight years as head of the Catholic Church. He took the title of emeritus pope and went to live in a monastery within the Vatican's walls, becoming the first pontiff to retire in roughly 600 years.
Since his retirement, Benedict has lived a mostly secluded life, limited to writing books and articles and meeting a select number of friends, fans and acquaintances. A handful of lay women, the memores domini, care to his daily needs and he is assisted by the Prefect of the Papal household and personal secretary, Monsignor Georg Gänswein.
Vatican spokesperson Matteo Bruni confirmed that there has been "a  worsening" of the pope's health conditions in the morning hours on Wednesday caused by old age. "The situation remains currently under control, constantly monitored by doctors," he added.
After the audience, Pope Francis visited Benedict at the Mater Ecclesiae monastery where he resides.
This article originally appeared here.