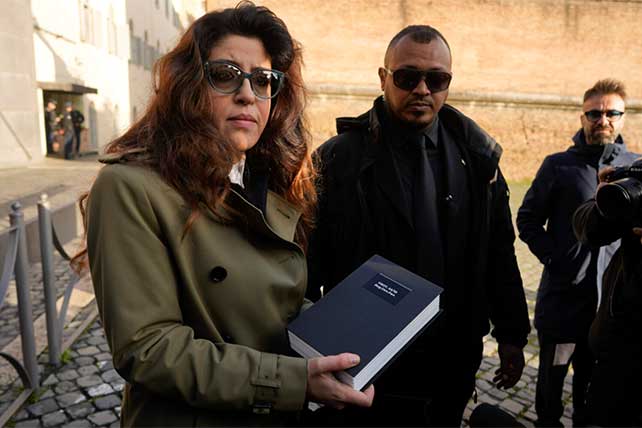 VATICAN CITY (RNS) — In dramatic testimony at the Vatican mega-trial on financial corruption Friday (Jan. 13), a former Vatican official who spent time in prison for her role in the Vatileaks scandal admitted to influencing the deposition of Monsignor Alberto Perlasca, a key prosecution witness in the current trial.
Her goal, said Francesca Chaouqui, a former Vatican diplomat, was to alert Pope Francis to the brewing financial scandal that is at the heart of the 18-month-old proceeding that has charged 10 defendants with fraud and abuse of office.
"I believed that I had to report to the Holy Father a description of what was happening behind his back," said Chaouqui.
Chaouqui's testimony was ordered by Vatican judges overseeing the trial after Perlasca, who once headed the administrative office of the Vatican Secretariat of State, revealed in his own testimony in early December that his deposition was made under pressure from Chaouqui. Perlasca, once a target of the investigation into his department's purchase of a luxury London real estate property, has given prosecutors crucial information about the involvement of his former superior, Cardinal Angelo Becciu, one of the 10 defendants.
RELATED: Vatican Opens New Investigation, Alleging Disgraced Cardinal Secretly Recorded Pope Francis
Chaouqui was appointed by Francis in 2013 to the commission on the Holy See's economic-administrative structure, tasked with reviewing the pope's efforts to reform the Vatican's financial systems. She oversaw its archives until 2016, when she was convicted of leaking confidential information in the scandal known as Vati-leaks II and sentenced to 10 months in prison by a Vatican court. Her sentence was later suspended.
On Friday, Chaouqui accused Becciu of playing a crucial role in her arrest.
Chaouqui described her situation after her conviction as that of an outcast seeking redemption in the eyes of the pope. She said she began looking into the real-estate deal and other Vatican financial moves in 2020, drawing from her previous experience and contacts.
"I believed that the Holy Father had been presented with false information on a series of issues," Chaouqui told the court Friday. She portrayed the trial as a further step in Francis' efforts to "bring the Vatican Secretariat of State to justice."
She explained that her first objective was to convince Perlasca to speak to the pope about what he knew. She reached out to Genoveffa Ciferri Putignani, a consecrated lay woman and a close friend of Perlasca's, who was also on the stand Friday.
Through Putignani's intercession, Chaouqui guided Perlasca in his written answers from prosecutors in his August 2020 deposition, both women said. Fearing Perlasca would bristle at suggestions from Chaouqui, Putignani told Perlasca that the advice came from a "retired magistrate."