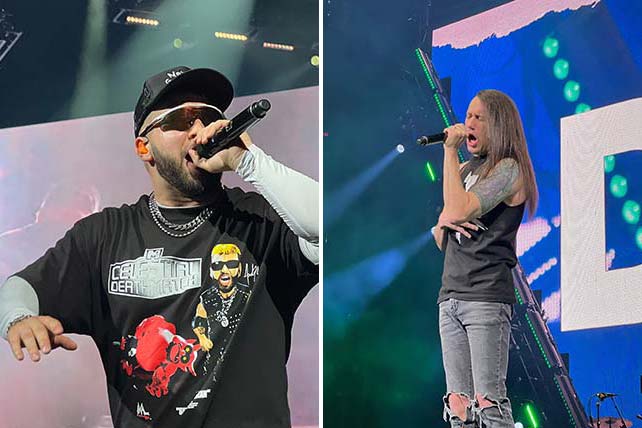 Winter Jam kicked off the 28th year of its annual 41-city tour last month in Tampa, Florida, with a lineup including Andy Mineo, Disciple, Anne Wilson, Newsong, Jeremy Camp, We The Kingdom, Austin French, Thrive Worship, Sean Be, and Renee.
Tour pastor and Winter Jam featured speaker Zane Black told ChurchLeaders that in just the first few weeks of the tour, over 7,216 people have placed their faith in Jesus.
Black said one girl came up to him in the hallway and shared how "she had struggled with deep depression, self harm, had been abused as a child, but that night when she heard the message of Jesus reaching out to take hold of her, she placed her trust in Jesus and she felt instant peace."
Black then explained to her she needed to get plugged into a church and equipped her with some next step resources.
"Each one of those numbers is a person and each one of those people are on a new trajectory of life. Only heaven knows the impact that God made in their lives," Black said. "I think about my story and how that day that I trusted Jesus everything changed…And I think about all that God has done since then. It makes me wonder what God will do each one of those 7,216!"
RELATED: Skillet Brings the Fire—Literally—at Winter Jam; Cooper Warns Against Fake Christianity
It's been nine years since Disciple last performed on a Winter Jam tour. Disciple's Kevin Young shared that "it's a dream" to be part of this year's tour. "We did it for a couple of weeks back in 2014 and have been trying to back on it since. We were very surprised when they called us and asked us and very thankful."
Disciple is used to smaller venues, and Winter Jam arena shows mean not only larger crowds but also stacked lineups, no soundchecks, and a rapid-fire six song set.
The band is one of the heaviest, not only on the tour, but in Winter Jam's history. Young said that hasn't been a problem for them though, adding, "The Winter Jam crowd has accepted us very well. It's really wonderful. Our favorite compliment at the end of the night is 'I've never heard of you,' and 'You're my new favorite band,' and 'I don't like rock music but I love you guys.' You know, we love compliments like that."
Since Young and his high school friends formed Disciple over 30 years, the gospel has been the main motivation for doing what they do, regardless of crowd size.
At the end of the night, Disciple makes a priority of meeting fans, new and old, by their merchandise table. In Columbus, Ohio, a line of fans that numbered in the hundreds received autographs and took pictures with the band. The line was only shut down by security officials when the arena needed to close.
RELATED: EXCLUSIVE: Lecrae and Andy Mineo Talk Deconstruction, Being Labeled Christian, Swearing in Music, and More With ChurchLeaders
After one of the shows, Young shared that a mother approached him and thanked him for their song "Promise to Live," which talks about anxiety, depression, and suicide. The mother shared that her 14-year-old daughter, who attended the show, had attempted suicide a few weeks ago. The mother told Young that their song meant so much to her daughter.
"You can't imagine. Why all this happened. Don't close your eyes. I vow to hold you. Until you break through. Just swear you'll stay alive. All your death will be resurrected again. With your hand on my heart. Make me a promise to live. A promise to live." – Disciple / "Promise to Live"
One of the last people in line waiting to meet Disciple told Young that he had never heard of them before, but their music spoke to him, because he had been having suicidal thoughts. Young came out from behind the table, hugged him, and prayed for him.
"That stuff is really special to us," Young told ChurchLeaders.