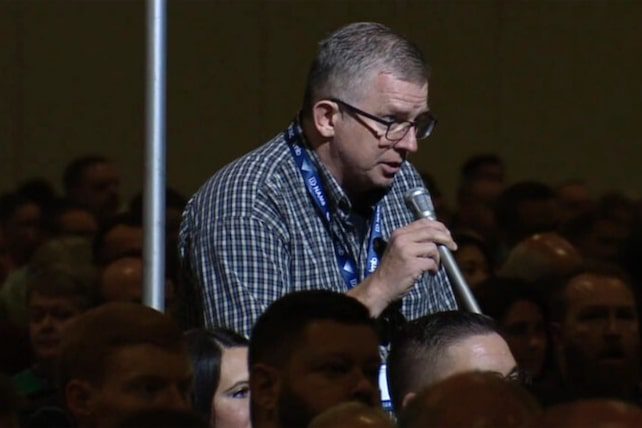 (RNS) — Todd Benkert, a Southern Baptist pastor who helped force reforms in the nation's largest Protestant denomination's sexual abuse policies, has stepped down from a task force he was appointed to last year to implement those reforms.
Benkert's role on the committee became controversial this week due to a public dispute involving a Florida megachurch that restored SBC President Johnny Hunt to active ministry after he had been credibly accused of sexual assault.
RELATED:   Southern Baptists passed abuse reforms last year. Now they have to make them stick.  
Hunt was one of a number of SBC leaders named in a 2022 report from the investigative firm Guidepost Solutions hired by the denomination in 2021 to resolve long-running conflicts over sexual abuse. The report found those leaders had chronically mistreated survivors of abuse and spent decades trying to deny responsibility for abuse at individual SBC churches.
The report led delegates at the 2022 SBC's annual meeting to set up a series of reforms designed to prevent abuse and care for abuse survivors and directed that SBC leaders appoint the Abuse Reform Implementation Task Force.
In preparing its report, Guidepost investigated allegations that Hunt, a retired Georgia megachurch pastor, had assaulted another pastor's wife in 2010, then spent years covering up his actions.
Hunt first denied the allegations and later claimed the incident had been consensual. After taking several months away from preaching, Hunt returned to the pulpit on Jan. 18 at Hiland Park Baptist Church in Panama City, Florida, where the Rev. Steven L. Kyle,  a friend, is pastor.
During his January sermon, Hunt claimed "false allegations" had ruined his life.
Kyle and a group of other pastors announced late last fall that Hunt had been through a restoration process and was cleared to return to ministry. That decision was denounced by a number of Baptist leaders, including current SBC President Bart Barber.
After Hunt's January sermon, Benkert filed a complaint against Hiland Park and another church where Hunt had been invited to speak and told a reporter from The Tennessean newspaper that he had done so. The denomination's credentials committee, which determines which churches are in good standing, is weighing whether to recommend expelling those churches for not taking the issue of abuse seriously.