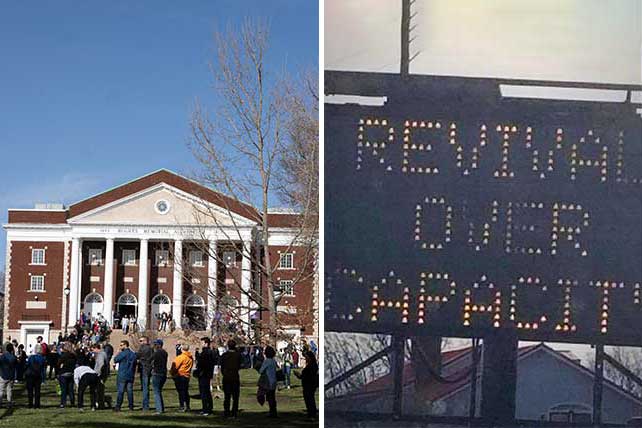 As Asbury University approaches the second full week of a continuous worship service that many have characterized as a revival, university president Kevin Brown announced Sunday night that beginning this week (Feb. 20-23), around the clock worship would come to an end.
Brown expressed to those worshiping on campus Sunday night (Feb. 19) that the number of people descending upon Wilmore, Kentucky, to witness what God started on Feb. 8 in the Hughes Auditorium after their Wednesday chapel service led by Zach Meerkreebs has been overwhelming for their little town of approximately 6,000 people in a 2.6 square mile area.
Some have estimated that over 50,000 people have traveled to Asbury University in an attempt to experience the worship service. The campus witnessed over 20,000 visitors on Saturday night (Feb 18) alone and reported that traffic was back up for over 2.5 miles with people trying to get to the university.
On Sunday (Feb. 19), social media posts showed that the city posted traffic signs telling visitors "No Further Entry" and "Revival Over Capacity."
RELATED: What Is Happening at Asbury University Wasn't Planned—Is This the Start of Widespread Revival?
"We had authorities that had to redirect traffic away from Wilmore. Our town's institutions and our town's infrastructure is just not in a place to absorb the influx of the blessed guests that we have had," Brown told those worshiping on Sunday night.
In a video released by the university, Brown shared, "We are now approaching two consecutive weeks of nonstop worship, prayer, and gathering that's been occurring on our campus. And whether you call this a revival or renewal, an awakening, or an outpouring, what we have experienced on our campus these last few weeks is unlike anything I've ever seen in my life."
Brown said that since the continuous worship service started, he has witnessed "radical humility, compassion, honesty, confession, and life-altering commitments."
The president also spoke to the decision to not livestream any of the worship service outside their normal scheduled chapels.
"From the start," Brown explained, "we avoided live streaming what has been occurring on our campus, and at that time, our desire was to honor the space and to allow for a more organic unfolding of what was taking place here."
RELATED: Asbury Chapel Speaker Thought He 'Totally Whiffed' Sermon; 2 Weeks Later, Christians Around the Nation Are Still Responding to It
The university decided to start livestreaming portions of the worship services in order "to play a role in stewarding God's Spirit on our campus and to do it in collaboration with the Asbury community," Brown said.