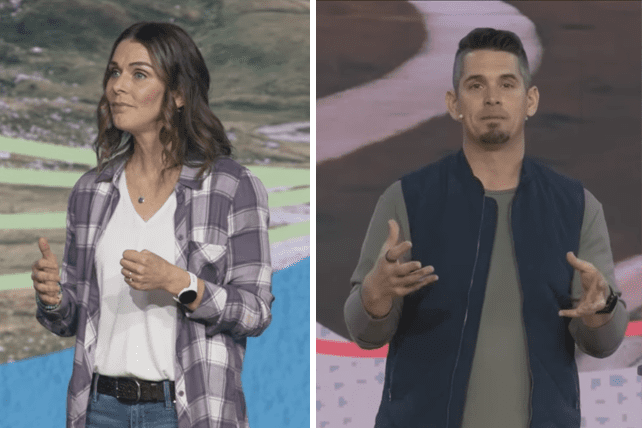 Saddleback Church, the largest church in the Southern Baptist Convention, has been ruled to no longer be "in friendly cooperation" with the denomination because of its decision to ordain women to the title of pastor, most notable among them Stacie Wood, the wife of the church's new lead pastor, Andy Wood. 
Wood took over for Rick Warren, who founded the church four decades ago, in Sept. 2022. When Wood assumed the role of lead pastor at Saddleback, whose flagship campus is in Lake Forest, California, Stacie was named one of the church's teaching pastors, a role she also filled at the couple's previous congregation, Echo.Church in San Jose, California. 
On Tuesday (Feb. 21), Executive Committee chairman Jared Wellman said in a statement, "In its meeting today, the SBC Executive Committee determined five churches to be not in friendly cooperation with the Convention due to the churches continuing to have a female functioning in the office of pastor."
"As stated in the Baptist Faith and Message Article VI, the SBC holds to the belief that the office of pastor is limited to men as qualified by Scripture," Wellman continued. "These churches have been valued, cooperating churches for many years, and this decision was not made lightly. However, we remain committed to upholding the theological convictions of the SBC and maintaining unity among its cooperating churches."
Saddleback's disfellowshipping came alongside the removal of several other churches from the denomination, one for issues related to sexual abuse, and four others who have a woman serving in the role of lead or senior pastor. 
Each church has a chance to appeal the decision at the annual meeting, which will take place in New Orleans in June. 
While the pastoral role filled by Stacie Wood appears to have been the decisive factor in the decision to disfellowship Saddleback Church, the question of whether the church would remain in the Southern Baptist Convention has been an open discussion for some time. 
In May 2021, Saddleback ordained three women on its staff to the title of pastor, albeit not teaching pastors, which led to an inquiry by the SBC Credentials Committee. 
In June 2022, when the SBC assembled in Anaheim, California, Saddleback narrowly avoided disfellowship amid a kerfuffle on the convention floor regarding whether the language of the Baptist Faith and Message 2000, the unifying statement of faith for the SBC, outlawed women merely from becoming senior pastors in SBC churches or if that mandate extended to other roles on the staff. 
Coupled with procedural concerns and a surprise appearance by Rick Warren, who delivered a "love letter" to the SBC in the waning days of his pastorate, the discussion about whether to oust Saddleback from the denomination was tabled. 
"I could have not built Saddleback Church to its size and influence in any other denomination," Warren said at what he rightly predicted would be his last Southern Baptist Convention annual meeting. "I love Southern Baptists."
"Friends worldwide," Warren tweeted on Tuesday. "I'm so touched by your love! Kay & I love you back! We'll respond to #SBC in OUR time & way thru direct channels."