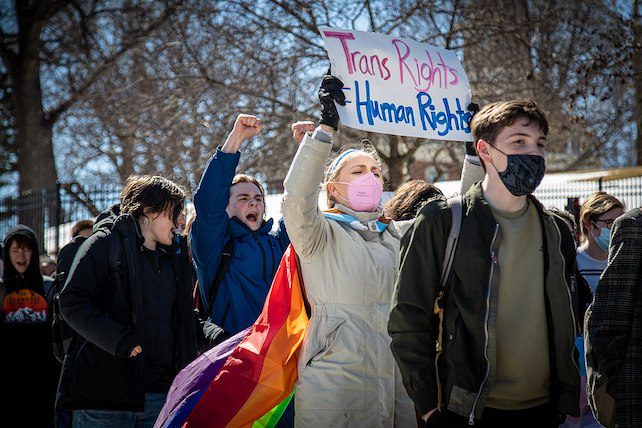 Rather than play a girls basketball team that has a transgender athlete on its roster, a Christian high school in Vermont forfeited a state tournament game, thereby losing its spot in the competition. The girls team at Mid Vermont Christian School in White River Junction was slated to play Long Trail on Feb. 21. But because Long Trail has a player who was born male but now identifies as female, MVCS withdrew from the tournament.
"We believe playing against an opponent with a biological male jeopardizes the fairness of the game and the safety of our players," says Vicky Fogg, head of MVCS. "Allowing biological males to participate in women's sports sets a bad precedent for the future of women's sports in general."
Girls Basketball Team Forfeits Game
MVCS sent a letter about its decision regarding the girls basketball team to Lauren Thomas, assistant executive director of the Vermont Principals' Association (VPA), the state's governing body for school sports. "I have received calls [from schools] asking for best practices and how to go forward knowing they were going to play a team with a transgender female on it," she says. "We just supported our stance and our best practices through our inclusivity statement."
One of the VPA's "diversity, equity, and inclusion" standards is to have "proactive talk tracks for transgender athletes."
According to Vermont's Agency of Education, "Transgender and gender nonconforming students are to be provided the same opportunities to participate in physical education as are all other students. Generally, students should be permitted to participate in physical education and sports in accordance with the student's gender identity."
The agency adds, "Participation in competitive athletic activities and sports will be resolved on a case-by-case basis." As for bathrooms and locker rooms, the agency says transgender students shouldn't be prohibited from using any facility that "conflicts with the student's gender identity."
Conflicts have arisen at other Vermont schools recently. Last fall, a middle school girls soccer coach was suspended for "misgendering" a transgender player; he'd written a personal post online, defending his daughter who was uncomfortable with the biological-male player in the girls locker room. Some female students at the same school were banned from a locker room when they objected to a biological male's presence.