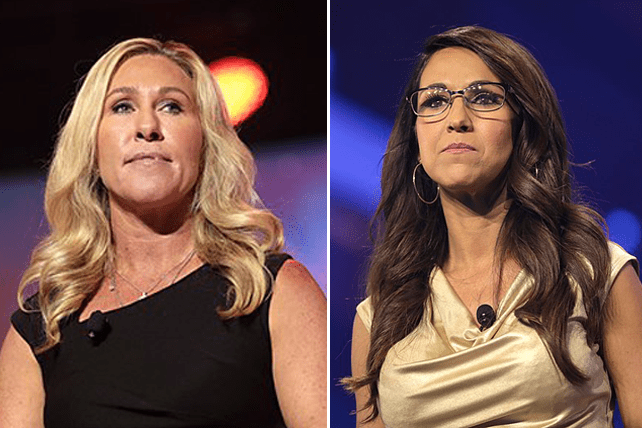 Faithful America, a nondenominational Christian advocacy group, recently launched two petitions in response to the actions of congresswomen Lauren Boebert and Marjorie Taylor Greene. 
The group wants Boebert to resign from her elected role in Congress for "weaponizing religion to seize power and restrict the rights of anyone different than her." 
Further, Faithful America is calling on author and pastor Andy Stanley to publicly rebuke Greene for her recent call for a "national divorce" in America. The group is calling on Stanley specifically because Greene is reportedly a former attender of North Point Community Church, of which Stanley is pastor, and was baptized there.
At the time of this article, the petition against Boebert has over 19,000 signatories, and the petition against Greene has over 13,000.
Faithful America Calls on Boebert To Resign
Launched on Feb. 8, the petition against Boebert centers on remarks she made while speaking at Storehouse Dallas Church in Texas last month, which many took as a thinly veiled longing for President Joe Biden's death.
RELATED: Lauren Boebert Under Fire for Saying 'I'm Tired of This Separation of Church and State Junk'
"We pray for our presidents. You know, [the Bible] says, 'Let his days be few and another take his office,'" Boebert said, referencing Psalm 109:8. While Boebert stopped the quotation there, the very next line of the Psalm reads, "May his children be fatherless and his wife a widow."
Boebert's words were met with a mixture of laughter and cheering.
She previously came under criticism for saying something very similar at Charis Christian Center in Colorado Springs in June 2022. 
"I do want you to know that I pray for our president," Boebert said during that appearance. "Psalm 109:8 says, 'May his days be few and another take his office.'" 
The petition calls upon Boebert to "repent" and "resign."
"As your fellow Christians, we write with both love and sadness as we urge you to privately repent for weaponizing our faith as a political tool, to publicly apologize for invoking a Psalm about death when praying for the President of the United States, and to resign from public office now," The petition reads.
The open letter continues, "Your repeated misrepresentation of our faith pushes people away from Jesus Christ, harms both democracy and the church, and even risks further unholy violence. Let us follow Jesus together by seeking love and the common good—not division and death. Please, for the good of the country and the Body of Christ alike, resign from Congress immediately."
The current goal of the petition is to reach 20,000 supporters. 
RELATED: American Muckrakers PAC Files IRS Complaint Against Church for Hosting Lauren Boebert, Defamation Suit Against Boebert
Faithful America Urges Stanley To Publicly Rebuke Greene
The petition against Greene, which launched on Feb. 28, centers on remarks she tweeted on Feb. 20.