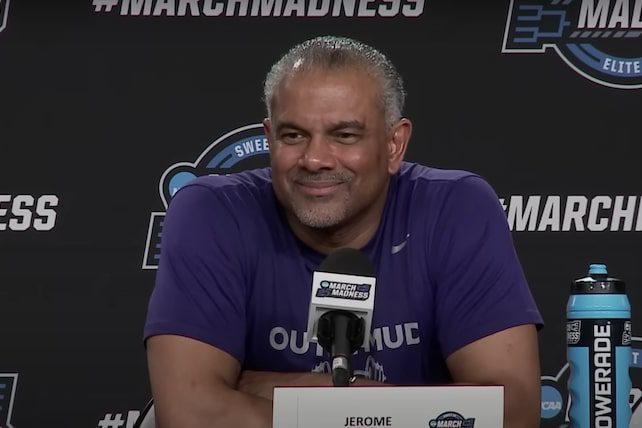 As the Kansas State men's basketball team heads to the Elite Eight this weekend, first-year head coach Jerome Tang is glorifying God and crediting the power of love. Last night (March 23), the Wildcats won an overtime thriller against Michigan State to advance in the NCAA Men's Basketball Tournament.
After Thursday night's 98-93 March Madness victory over the Spartans, Coach Tang told a CBS reporter that he and his players have "a ton of faith in each other." Tang just tries to "love 'em," he added, saying, "When you love people, it's amazing what you can accomplish."
If Kansas State wins Saturday against Florida Atlantic, the Wildcats will advance to their first Final Four since 1964. The university's men's basketball team has never won a national championship.
Coach Jerome Tang Gives Credit, Glory to God
Jerome Tang began his post-game press conference by thanking "my Lord and Savior, Jesus Christ," saying, "I would not be where I'm at right now if it wasn't for his faithfulness in my life and guidance." All his players have some type of faith that "guides their life," the coach said, noting it's evident in their work ethic and in "how they treat people off the court."
To reporters, Tang said, "I hope y'all saw the love that they have for each other, the joy in which they play, and the freedom that they're allowed to be out there and play with." The coach expressed gratitude that he gets to spend more time this season practicing and playing with his players.
One of those athletes, guard Markquis Nowell, set a school record Thursday night, with 19 assists (and 20 points). The New York City native, whose Twitter handle is @MrNewYorkCityy, electrified fans at Madison Square Garden, tweeting afterward: "ALL GLORY TO GOD!!!"
Speaking to a reporter after the victory, Nowell said, "I just want to start by saying all glory to God. He gave me these gifts and these talents, and I'm just glad that I have a platform to showcase them."
Coach Jerome Tang Is a Former Youth Pastor
Jerome Tang, 56, is the first Black coach in Kansas State history. Born in Trinidad and raised in Texas, he served as a youth pastor while coaching the basketball team at Heritage Christian Academy to four state championships. Next up for Tang was a 19-year stint as an assistant coach at Baylor.
Last spring, Tang left Baylor after much prayer. He took over a Kansas State team that had three consecutive losing seasons and was picked to finish last in the Big 12 this year. Defying expectations, he led the Wildcats to a 26-9 record, which he described as "a testament to God's faithfulness." But Tang insisted that he's "simply an instrument" and that "basketball is just the platform that God's given me in order to help mentor young men."