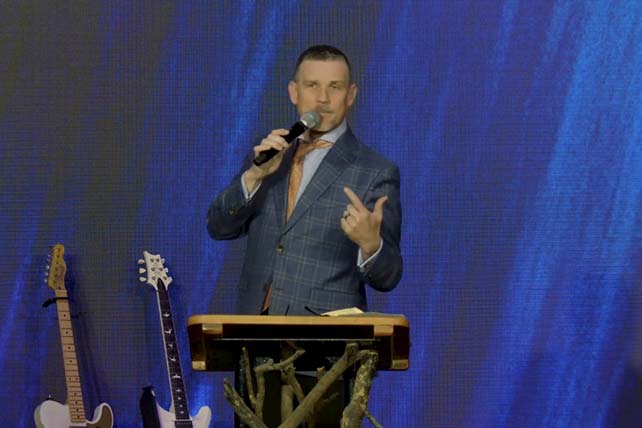 Controversial pastor Greg Locke was sued this week by the Wilson County Government in Tennessee for zoning violations and "excessive noise" complaints against Global Vision Bible Church in Mt. Juliet.
The lawsuit was filed by Director of Wilson County Development Services Tom Brashear and states that the property owned by Global Vision Bible Church "has a history of numerous complaints, some of which are related to zoning violations and others about excessive noise."
Global Vision Bible, Inc., Global Vision Baptist, Inc., and Global Vision Church are listed as defendants alongside Locke.
The lawsuit alleges that the church has failed to obtain proper building permits for construction over the years and has violated multiple county "Notice to Stop Work" orders.
RELATED: Greg Locke Warns Christians To 'Wake Up' After YouTube Permanently Deletes Church's Channel
In addition to construction violations, the suit also claims that an increasing number of local residents have filed noise complaints.
"The complaints have increased in number and the frequency from neighbors who suffer from the excessive noise, drainage from the property, and other issues," the suit reads.
The suit argues that if Global Vision Bible Church fails to bring the property into complete compliance, they are be required to "remove all buildings from the property and be permanently enjoined from placing any other buildings on the property until there is full and strict compliance with the Wilson County Zoning Ordinance and the Wilson County Strormwater Regulations."
Locke told ChurchLeaders that "not only is this lawsuit unconstitutional, it's flat out not true. We have done everything we can to be in compliance. We've even had a Tennessee State Inspection applaud us on our progress and give us areas that have needed attention."
RELATED: 'I Won't Be Silent,' Greg Locke Declares After Receiving Death Threat From 'Witchcraft Practicing Psycho' 
"There is no noise ordinance, and we've gone above and beyond to minimize the sound," Locke continued. "And now that we've done that, they have to find some other trumped up nonsense to violate us on."
Locke said that the church won't "be bullied," explaining that the complaints listed in the lawsuit reference a building that they haven't met in for over three years.
"Let me be plain: we will counter sue the County. We will keep having services. We will not be bullied and we will continue to do all we can to minimize sound, be good neighbors, and serve the community," Locke said.