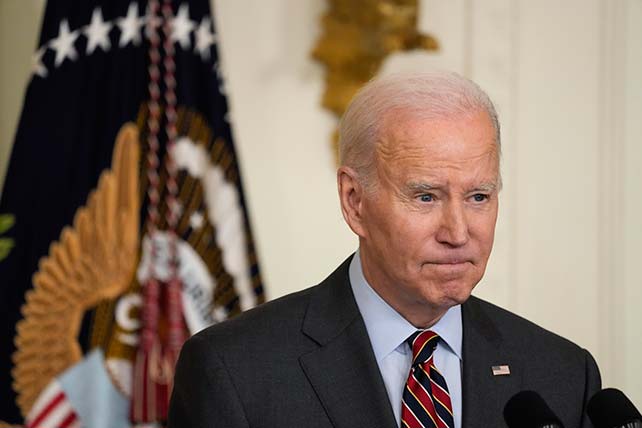 President Joe Biden has been criticized for cracking a joke after a reporter asked him whether he believed "Christians were targeted" with the shooting that took place on Monday (Mar. 27) at a Christian elementary school and resulted in the deaths of six people, three of whom were 9-years-old.
While he was walking toward the White House, a reporter asked the Biden, "Do you believe that Christians were targeted at the Nashville School shooting?"
As Biden made eye contact with the reporter, he was asked again, "Do you believe that Christians were targeted?"
"I have no idea," Biden replied as he continued to make his way toward the White House.
RELATED: 9-Year-Old Hero Evelyn Dieckhaus Tried To Warn Covenant School Classmates Before Being Fatally Shot
A reporter then told the president that US senator Josh Hawley (R-Mo.) believes that Christians were targeted and asked, "What do you say to that?"
"Well, I probably don't then," Biden replied, smiling and chuckling. He quickly followed the remark up by saying, "No, I'm joking."
"This is an office that has the responsibility of leading this country. Children are dead," the Missouri Senator said. Expressing sympathy to the families affected by the shooting, Hawley added, "Words don't begin to express the loss that you must be feeling, and as a parent myself of three small kids, I can't imagine."
The president again told reporters that he had "no idea" whether Christians were specifically targeted by the shooter.
After hearing Biden's comments, Hawley, who is a Christian, said, "School children were killed yesterday in a hate crime—but rather than pushing for answers, Joe Biden is trying to make jokes. It's beneath the office of the presidency."
In an appearance on Fox News' The Ingraham Angle on Tuesday, Hawley reiterated that the president's response was "totally beneath the dignity of the office of the presidency in the United States."
RELATED: Pastor's 9-Year-Old Daughter Was One of the Victims in Covenant School Shooting
"This is an office that has the responsibility of leading this country. Children are dead," the Missouri Senator said. Expressing sympathy to the families affected by the shooting, Hawley added, "Words don't begin to express the loss that you must be feeling, and as a parent myself of three small kids, I can't imagine."