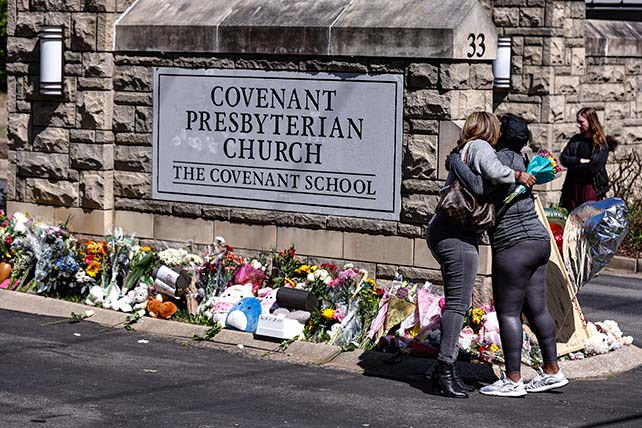 Brent Leatherwood, president of the Southern Baptist Convention's (SBC) Ethics & Religious Liberty Commission (ERLC), revealed on Monday (April 3) that his three children attend The Covenant School and were on campus when a shooter violently killed six people last week (March 27).
"A week ago, at 10:28am, I received the most terrifying call a parent could imagine: a shooter was at the school of my three children," Leatherwood said. "While our family is safe now, the trauma from that day and the memories of six friends, classmates, leaders, and servants will be with us for the rest of our lives."
On the day of the shooting, the assailant shot out the windows of locked doors to gain entry into the school, proceeding to prowl halls and classrooms with the two assault rifles and handgun.
RELATED: 9-Year-Old Hero Evelyn Dieckhaus Tried To Warn Covenant School Classmates Before Being Fatally Shot
The shooter killed Evelyn Dieckhaus (9), William Kinney (9), Hallie Scruggs (9), custodian Mike Hill (61), substitute teacher Cynthia Peak (61), and Head of the School Katherine Koonce (60) before being apprehended and shot dead by Metro Nashville Police Department officers.
Leatherwood described the March 27 shooting as tragic, saying that he still hasn't found the right words to best express the "flood of emotions, especially the grief." The ERLC president also noted that his family is "forever indebted" to the heroes who "acted with incredible bravery" that day.
"While the last week has altered our story, it has not changed our trajectory. God's love endures; and we hold fast to that truth," Leatherwood continued. "3/27 was the darkest day of our lives, yet His mercies are immeasurably more."
RELATED: Shooter at Christian Nashville Elementary School Kills 3 Kids, 3 Adults
Matt Boswell's "His Mercy Is More," a song that has been continuously playing in the Leatherwood home since the shooting, has helped Leatherwood to "hold it together so many times over the last week."
Additionally, Leatherwood said that the Church—specifically congregations of The Church at Avenue South and Brentwood Baptist Church—has shown his family and other families from the school an outpouring of love and kindness.
"Covenant will come back. There's too much light there and too many people leaning in for it to be otherwise," Leatherwood said. "Darkness never prevails against the light."