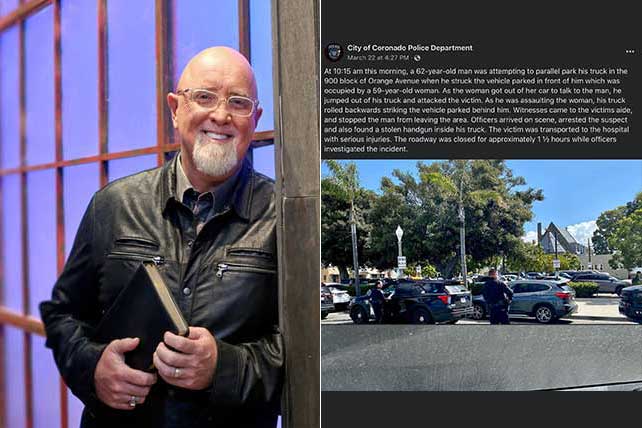 James MacDonald, disgraced former pastor of Harvest Bible Chapel in Rolling Meadows, Illinois, was arrested last month in Coronado, California, for allegedly assaulting a 59-year-old woman.
The altercation reportedly occurred on March 22 after MacDonald struck the woman's vehicle while attempting to parallel park his truck on the 900 block of Orange Avenue.
According to the City of Coronado Police Department, the woman got out of her car to talk to the 62-year-old former megachurch pastor, at which point MacDonald allegedly "jumped out of his truck and attacked the victim."
RELATED: James MacDonald Unleashes Vitriol Against Journalist, Calling Her a Liar, Sl** and Apostate
"As he was assaulting the woman, his truck rolled backwards striking the vehicle parked behind him. Witnesses came to the victims aide [sic], and stopped the man from leaving the area," the police statement explained.
The woman was transported to the hospital with what officers described as "serious injuries."
While at the scene, officers found what they believed to be a stolen handgun inside MacDonald's truck. However, police later determined that the gun was not stolen.
Officers arrested MacDonald at the scene and booked him at San Diego Central Jail. He was released later that evening after posting bail.
RELATED: Elders Fire James MacDonald, Believe He Is 'Harmful' to the Church
MacDonald was charged with one count of "assault by means likely to produce great bodily harm and one count of battery with serious bodily harm." Both accounts are felonies and could result in jail time if MacDonald is convicted.
MacDonald's attorney, Michael Pancer, released a statement to the Chicago Sun-Times, saying that MacDonald "would never intentionally harm another human being," and that the charges "as written are not accurate as to what took place. We believe the evidence will show Dr. Macdonald's [sic] intent and conduct was neither malicious nor correctly assigned in the charges filed. We look to the legal process to establish what did happen and remedy the situation lawfully."