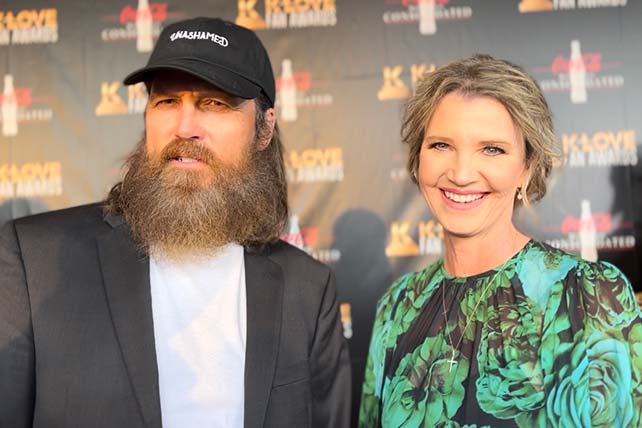 ChurchLeaders had the opportunity to talk with Jase Robertson from the "Unashamed with Phil & Jase Robertson" podcast and the hit television series "Duck Dynasty" on the red carpet of the K-Love Fan Awards this past Sunday (May 29).
The popular duck hunter was accompanied by his wife, Missy, and joined his brother Al, and father Phil, greeting fans on the red carpet in hope of claiming the K-Love Fan Award for "Podcast of the Year."
The Robertson's podcast describes itself as taking the listener "beyond the four walls of the church to experience God's Word, take on the culture, and laugh along with funny and inspiring stories of faith and family." Instead of calling it a podcast, the Robertsons—especially Phil—call it a Bible study.
ChurchLeaders asked Jase what it meant to him to be walking the red carpet at the K-Love Fan Awards.
RELATED: Satan Is 'Loud and Proud,' So We Must Preach Truth, 'Nefarious' Author Tells Phil and Jase Robertson
"It's special because we're connecting over air waves—we've done almost 700 episodes—and it's not about us," Jase said. "You know, we tell a few quirky stories, but we have the greatest script the world has ever known. We're out there sweating, doing all-night prep sessions, just to try to convey who Jesus says in a real meaningful way."
He explained that it "means a lot for us now to see" people loving the podcast. "It's a little bit overwhelming, to be honest."
The celebrity has taken criticism for unashamedly talking about Jesus and praying on the show "Duck Dynasty." ChurchLeaders asked Jase how he would encourage not just pastors but all Christians in today's world to be bold and to not back down when faced with opposition regarding their faith.
"I think it just comes from staying in the Word," he said, and realizing what it means when Jesus was talking about being "blessed when people insult you and persecute you" (Matthew 5:10).
RELATED: Lauren Daigle Says Her Song 'Rescue' Was Inspired by a Vision; Years Later, She Met the Person It Was About
"You know, I'm trying to love everybody," Jase said. "I'm trying to get people to put their faith and trust in Jesus because really, the benefits are not offered out in the world here. We get forgiveness. We get community. We get forever!"
Jase said Jesus tells his followers that they will be persecuted. "So I tend to not look at each individual case more than just that I want to be a spokesman for Jesus. And if I get persecuted, you know what, so be it."
Watch the K-Love Fan Awards on TBN or the TBN app Friday, June 2nd at 8 pm and 10 pm est.