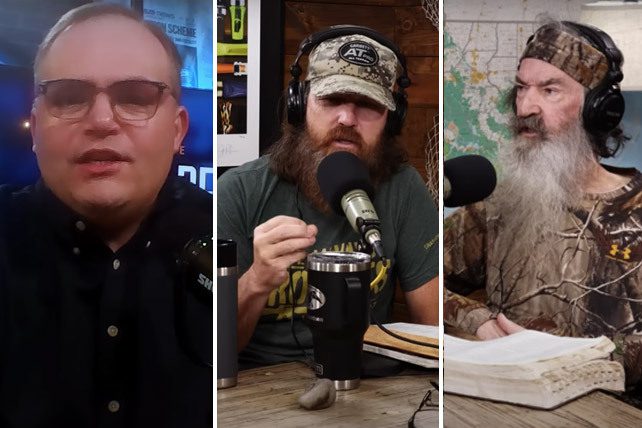 Steve Deace, author of "A Nefarious Plot," appeared on a recent episode of Phil and Jase Robertson's Unashamed podcast to discuss evil and the church's role in combating it. Deace also told Phil Robertson and Jase Robertson how his little-known book ended up becoming a well-received, widely distributed film.
As ChurchLeaders has reported, "Nefarious" is a Christian horror-thriller film described as a cross between "The Silence of the Lambs" and "The Screwtape Letters." It has a 97% audience score on Rotten Tomatoes.
The 'Crazy Journey' To Make 'Nefarious'
Deace, an author and podcaster who used to write for USA Today, told the Robertsons he became a Christian at about age 30. Later, while on his first-ever trip to Washington, D.C., he was inspired to write a sequel to the C.S. Lewis classic "The Screwtape Letters." There was no better place to "get inspired to write about a demonic takedown of America," he realized. "You're right there in the belly of the beast."
In "A Nefarious Plot," Satan tasks a high lord from hell named Lord Nefarious to destroy the United States. Writing the book was a culmination of "everything I'd been through to renew my mind," said Deace, who drew on "everything from Augustine to Josh McDowell." Taking a page from Milton's "Paradise Lost," he also added "some creative license and subtext, to help nonbelievers understand the fullness of the biblical text."
Although the book initially sold only about 5,000 copies, Deace received an out-of-the-blue phone call from Glenn Beck. The radio host, who had received a copy from a friend, said the book "blew my mind." The day after Deace appeared on Beck's show, he received a call from a producer, which eventually led to a movie deal.
Although Deace said his goal was to "break every Christian movie cliché," he readily used one to describe the film's production: "It's a total God thing," he admitted. "This has been a crazy journey—and if you've seen the film, you know why."
On its way to the big screen, "Nefarious" faced more than its share of nefarious happenings. Obstacles and challenges included the pandemic, car accidents, medical emergencies and hospitalizations, a labor lawsuit, supernatural occurrences and attacks, an R rating that Deace said is undeserved and political, and even a destructive, home-invading squirrel.
Satan Is 'Loud and Proud,' Not in the Shadows
On the podcast episode about "How Satan Thrives in Our Culture," Deace explored the misconception that "the devil loves to operate in the shadows." By looking at our culture, it's obvious that Satan is "loud and proud," the author said. "I think [Satan] likes to be in charge of his own branding. That's different," he added. The devil "doesn't want the camouflage taken off, for everyone to see."