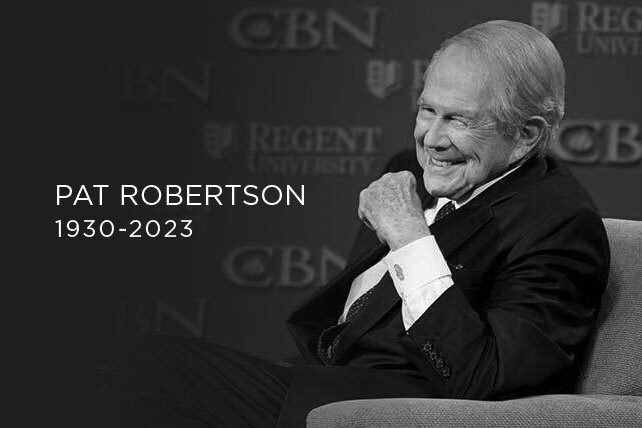 Pat Robertson, well-known religious broadcaster and best-selling Christian author, died at the age of 93 early Thursday morning (June 8) at his home in Virginia Beach.
Robertson founded The Christian Broadcasting Network (CBN) in 1960 after, he said, God told him to start the television ministry.
The CBN airs Robertson's popular "The 700 Club," a talk show that combines religious news and political commentary with light entertainment. Robertson stepped down as the show's daily host in 2021, handing the reins over to his son, Gordon.
In a statement released by CBN News, Patterson is described as a "longtime TV host, religious broadcaster, educator, humanitarian, and one-time presidential candidate." In addition to starting the CBN, Robertson also founded Operation Blessing, Regent University, the American Center for Law and Justice, and International Family Entertainment, Inc.
RELATED: Pat Robertson Steps Down After 55 Years as Daily Host of The 700 Club
The televangelist also served as chancellor of Regent University, the private Christian university in Virginia Beach, Virginia, which he founded in 1977.
Robertson ran for president of the United States in 1988, but he failed to garner the support he needed to become the frontrunner for the Republican party. Ronald Regan's Vice President, George H.W. Bush, went on to become the 41st President of the United States.
Robertson returned to CBN following his failed attempt to become president, and he grew the network globally—extending the network's reach to over 150 countries in more than 100 languages through the help of satellite technology.
During his political run, Robertson created the Christian Coalition, a non-profit organization that "helped cement the Republican Party's enduring alliance with evangelical voters." Today, it is known as the Christian Coalition of America. According to its website, the organization "offers people of faith the vehicle to be actively involved in impacting the issues they care about from the county courthouse to the halls of Congress."
RELATED: Pat Robertson: It's Time to Tell Trump He's Had His Day
Robertson was a loyal supporter of former President Donald Trump, and he even prophesied that Trump would win a second term in 2020.
Robertson often stoked controversy for speaking his mind, particularly with regard to his framing of natural disasters or terrorist attacks as divine judgment for the sins of America. For example, following 9/11, Robertson agreed with Jerry Falwell's accusation against "the pagans and the abortionists and the feminists and the gays and the lesbians who are actively trying to make that an alternative lifestyle, the ACLU, People for the American Way—all of them who have tried to secularize America."