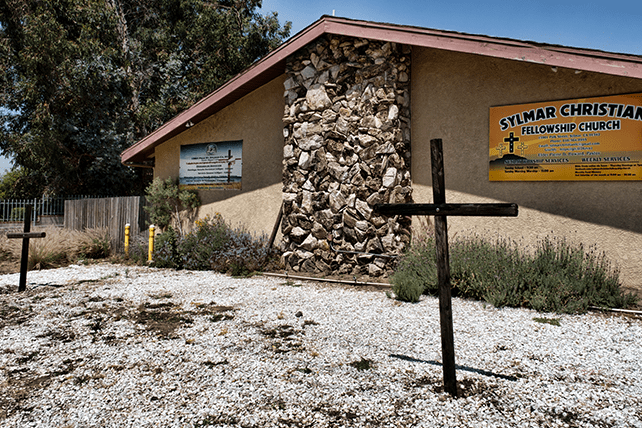 An investigation is underway after three wooden crosses belonging to Sylmar Christian Fellowship Church were set ablaze. Authorities suspect that the fire was the result of arson, and it is possible that the church is the victim of a hate crime. 
Sylmar, California, where the predominantly Black and Latino church is located, is a suburban community north of Los Angeles. The Los Angeles Fire Department said that they reported to the scene at 4:42 a.m. on Thursday, July 6, according to the Los Angeles Times.
By the time firefighters arrived, the fires had been put out by a concerned neighbor, who extinguished them using a garden hose. The middle cross had reportedly fallen or been knocked over prior to the fire. The church itself was not harmed. 
"I hope it wasn't a hate crime," said Pierre Howard, the church's pastor. "If it is a hate crime, it's a hate against God, not a hate against us personally."
RELATED: Church Fire Bomber Arrested, Claims He Was Trying To Protect Children by Stopping Drag Show Event
Howard indicated to investigators that no threats had been made to the church prior to the fire. 
"I think it's an individual attack on God and Christianity," Howard said. "There's nothing that signifies that it was more than a crime of opportunity of a person who was not happy with God."
The crosses have stood outside Sylmar Christian Fellowship Church for eight years. Neighbors reported that they often see people kneeling in front of them to pray. 
"It looks like when people have troubles, they come and sit, and they pray at the crosses," said one neighbor. "For someone to come and burn them, that's just a disgrace."
"It's a shame that people still want to do things like this in this day and age," Howard said.
RELATED: 'A Devastating Loss'—New Jersey Church Destroyed by Blaze Requiring Over 150 Firefighters
While the church facility has security cameras, they are not pointed in the direction of the crosses that were burned. Authorities suspect that an accelerant was used to light the fires.