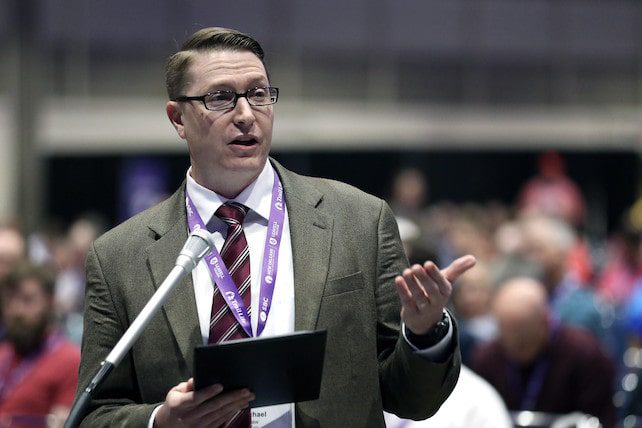 J.D. Greear, pastor of The Summit Church in Raleigh-Durham, North Carolina, and a former president of the Southern Baptist Convention (SBC), has outlined his concerns with the constitutional amendment proposed by Mike Law that would stipulate only men may hold the title of "any kind" of pastor in a Southern Baptist church.
"While supportive of the desire to affirm complementarianism, I want to suggest that this amendment is not the way to do that," said Greear in a July 12 post on his blog, "and that it will have deleterious effects far beyond what most Southern Baptists intend, as evidenced by this open letter by our National African American Fellowship, who are pleading with us to slow down and consider the implications of what we're doing."
My thoughts after #sbc23 on my discomfort with the Law Amendment, honest history about office confusion, and the basis of our cooperation.https://t.co/M5qgRzxJnh pic.twitter.com/1qVNGzZmJh

— J.D. Greear (@jdgreear) July 12, 2023
RELATED: Former SBC President J.D. Greear Weighs in on Removal of Saddleback From Denomination
Background to J.D. Greear's Concerns
At the 2023 annual meeting of the SBC in New Orleans in June, messengers (i.e., delegates) voted by a two-thirds majority in favor of a constitutional amendment stating that a church in cooperation with the denomination "affirms, appoints, or employs only men as any kind of pastor or elder as qualified by Scripture." The primary proponent of the amendment is Mike Law, senior pastor of Arlington Baptist Church in Arlington, Virginia. Messengers must again pass the amendment by a two-thirds majority at the 2024 annual meeting in order for the change to the SBC constitution to take effect. 
Also at the 2023 annual meeting, messengers upheld the decision by the SBC Executive Committee to oust Saddleback Church (Lake Forest, California) and Fern Creek Baptist Church (Louisville, Kentucky) from the convention over those churches' decisions to allow women to be pastors. While the lead pastor of Fern Creek is a woman, the lead pastor of Saddleback is not. Saddleback has, however, ordained women as pastors, and lead pastor Andy Wood's wife, Stacie, is a teaching pastor at the church and preaches during services.
On July 3, Pastor Gregory Perkins, president of the SBC's National African American Fellowship (NAAF) wrote a letter, published on the NAAF's website, to SBC president Bart Barber, saying that he was troubled by the decision to disfellowship Saddleback and Fern Creek, as well as by Law's amendment. 
Perkins said those actions violate local church autonomy and "may disproportionately impact NAAF affiliated congregations. Many of our churches assign the title 'pastor' to women who oversee ministries of the church under the authority of a male Senior Pastor, i.e., Children's Pastor, Worship Pastor, Discipleship Pastor, etc." Perkins said the NAAF represents over 4,000 SBC congregations.
The NAAF president emphasized the importance of diversity in unity and requested "vigorous, yet constructive dialogue" about the matter. Barber responded by calling the request "Christ-honoring" and saying, "I will make sure that the entire SBC family has ample opportunity for prayer and dialogue throughout the coming year leading up to our meeting next June in Indianapolis."
J.D. Greear on the Law Amendment
"I want to be clear," said J.D. Greear in his blog. "I don't oppose this amendment for theological reasons, but constitutional ones."