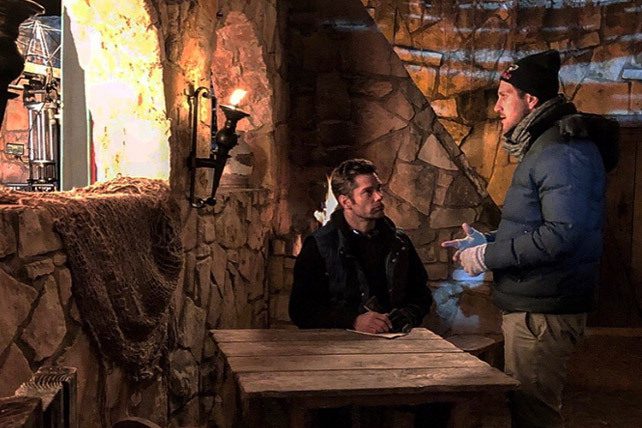 UPDATED July 17, 2023: "The Chosen" announced Sunday afternoon that after having paused filming because of the actors strike, the show was granted a waiver and is now able to resume.
"Great news!" said "The Chosen" in a tweet. "We just received word from SAG that we have been approved for a waiver. We'll continue shooting on Monday."
Update: Great news! We just received word from SAG that we have been approved for a waiver. We'll continue shooting on Monday.

— The Chosen (@thechosentv) July 16, 2023
"To be clear," an additional tweet explained. "1. We've agreed to all of SAG's requests and their interim agreement. 2. Season 4 is entirely independent and 100% funded by donations."
Fans responded to the news with their excitement and gratitude. "Praise Jesus!!!" one person commented. "Answered prayer!!!!"
---
ChurchLeaders original article written on July 14, 2023, below.
"The Chosen" has paused filming on Season 4 for the foreseeable future as a result of the actors strike, which went into effect at 12:01 a.m. Pacific Time Friday morning. It is unknown at this point how long the strike, which is concurrent with an ongoing writers strike, will last and if it will affect the release of the series' fourth season. 
RELATED: 'The Chosen' Wins K-Love Fan Award; Dallas Jenkins Shares 'Jesus Is the Only Answer' in What Appears To Be a Hopeless World
"Unfortunately, despite the requested work we did on our end, an exemption for us will not be granted in time to avoid a shutdown," said series director Dallas Jenkins in an update Thursday night about the strike initiated by the Screen Actors Guild – American Federation of Television and Radio Artists (SAG-AFTRA). "We will do a little filming tomorrow of everything that doesn't require our cast, and then we'll wait and hope that either the strike ends (unlikely soon), or that we're granted an exemption and can resume filming."
'The Chosen' Stops Filming Season 4
The Writers Guild of America (WGA) went on strike in May after negotiations with the Alliance of Motion Picture and Television Producers (AMPTP) failed. In a contract bulletin outlining the compensation issues writers are seeking to address, the WGA said, "Driven in large part by the shift to streaming, writers are finding their work devalued in every part of the business." 
The last writers strike that took place in Hollywood was in 2007-2008. On July 1, Jenkins shared an update on the writers strike, saying that he and his co-writers, Tyler Thompson and Ryan Swanson, are not members of the WGA, so that particular strike does not impact "The Chosen." But the show could be impacted, said Jenkins, if SAG-AFTRA were to go on strike. 
"SAG (actors union) just extended their negotiating deadline to July 12th, so there for sure won't be a strike before then," said Jenkins. "But if no deal is made and they strike, we will be shut down…we are a SAG show. That said, there is a chance we could get an exception or a temp deal because we're independent, but that may not happen, and/or we may not do that."
RELATED: Dallas Jenkins on Why 'The Chosen' Is Not 'Adding to Scripture'