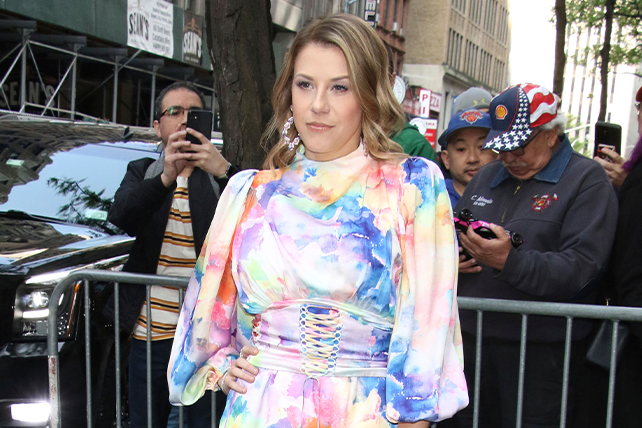 A new romcom starring Jodie Sweetin was sold to the Great American Family network, of which Candace Cameron Bure is chief content officer. However, Sweetin is none too pleased.
While the two played bickering, yet close, sisters on "Full House," and later "Fuller House," Sweetin and Bure have different opinions on family.
Sweetin told People, "I am disappointed, but in keeping with my mission of supporting the LGBTQ+ family, any potential or future money made from this sale will be donated to LGBTQ+ organizations."
Jodie Sweetin Upset Over Movie Being Sold to 'Traditional' Network Influenced by Candace Cameron Bure
Adding to her handful of movies, Jodie Sweetin co-stars in "Craft Me a Romance." According to the Great American Family network, the movie premiers Saturday, Sept. 16.
"The owner of a quaint arts and crafts store (Jodie Sweetin) is faced with an ultimatum when the owner of a competitor (Brent Bailey) tells her she must either sell her store or be forced out of business," the film's description reads.
"Sometimes, we, as actors, don't have control over which network buys the projects we are in, nor are we a part of the process in which they get sold," Sweetin told People. "So I was very surprised to learn by reading about it in the press yesterday that the independent film I worked on over a year ago was sold to Great American Family."
Last year, Sweetin further explained her support of social causes. "I have always been an outspoken ally for LGBTQ communities, for Black Lives Matter," she told Entertainment Tonight. "I've always tried to fight for equality and love for everyone."
While Sweetin openly supports the LGBTQ+ community and values, Bure has just as strong opinions on faith-based content and "traditional" families.
Being raised in a Christian home, Bure has long supported faith-based programming. She and her actor/author brother Kirk Cameron have caught heat in the press for supporting Christian ethics in the entertainment industry.
Many stars have called out Bure for her public stance on marriage and family. She continues to receive criticism from JoJo Siwa and Miss Benny. Yet Bure denies accusations of homophobic actions—including the accusation that she got "Casey" (played by Miss Benny) written off of "Fuller House."
"I thought Miss Benny did a great job as 'Casey' on the show. We didn't share any scenes together, so we didn't get a chance to talk much while filming on set. I wish Miss Benny only the best," Bure said.
Candace Cameron Bure's Goal for the Great American Family Network
According to its website, the Great American Family team is "working hard to create content that fills your home with joy."