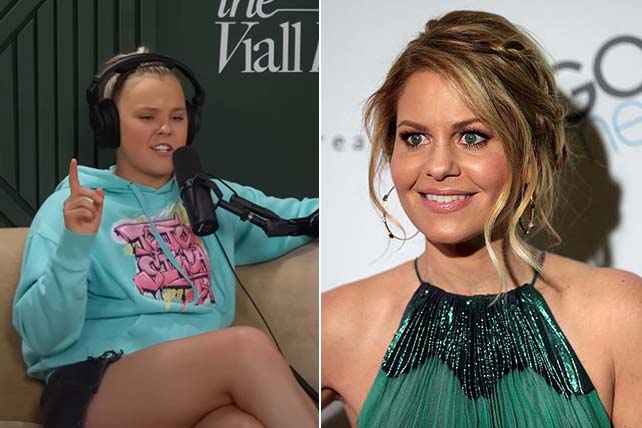 Dancer, singer, actress, YouTuber, and outspoken advocate for the LGBTQ+ community JoJo Siwa recently discussed her internet clash with Christian actress Candace Cameron Bure last year.
Siwa's comments about the dispute came in the context of an interview on Nick Viall's ("The Bachelor," "The Bachelorette") podcast, "The Viall Files."
The kerfuffle began after Siwa posted a TikTok video accusing Bure of being the "rudest celebrity" she had ever met. Siwa's video was montage of celebrities with titles like "celebrity crush," "nicest celebrity," and "coolest celebrity. However, Bure was placed in a category that caused both her and her fans to question why the "Dance Moms" star felt that way.
RELATED: Candace Cameron Bure Responds to JoJo Siwa's Accusation That She Is the 'Rudest Celebrity'
Siwa was referencing a time when she was young and attempted to get a photo with Bure during a red carpet premiere of "Fuller House." Siwa said that the "Full House" star told her, "Not right now." Siwa said she thought nothing of the exchange until she walked back to be with her mom and saw Bure taking pictures with other kids.
After the two talked on the phone and Bure apologized, the dust seemed to settle. That is, until Bure made a comment regarding traditional marriage upon leaving the Hallmark Channel to join Great American Family.
Bure's comment was in response to a question asked by The Wall Street Journal as to whether her new network would feature LGTBQ+ love stories like her previous network had begun to do.
"I think that Great American Family will keep traditional marriage at the core," Bure said.
RELATED: Candace Cameron Bure Takes Heat From LGBTQ Advocates for Comments on 'Traditional Marriage'
Siwa, who is queer, took to social media once again, describing Bure's comments as "rude and hurtful to a whole community of people."
At one point during her recent interview, Viall asked Siwa what scares her most about society today. She replied, "How serious people take things."
Siwa then encouraged listeners to make peace instead of fighting over things, reminding them that life is precious: "We don't know when it's going to be our last moment. I try to live every day not upset about something. Not fighting about something. Not angry about something."
Viall segued into asking Siwa how things stand with Bure and her today.
"It's interesting," Siwa said.
RELATED: Franklin Graham Praises Candace Cameron Bure for Taking a Bold Stand for 'God's Definition of Marriage'
Siwa then gave some backstory, explaining that she has nothing against religion.
"I grew up super religious. And I mean, I still have faith. I still believe," she said, adding that there is nothing wrong with making movies that depict "traditional marriage with a man and a woman."
Siwa said that she took issue with Bure's comments regarding traditional marriage because she believes Bure was trying to "put down LGBTQIA, and she was specifically going to make movies that had no representation of LGBTQIA—which is fine—but it's fine if you're doing it because it isn't your movie's storyline."
"But when you're doing it out of spite to say that too much is about LGBTQ right now—'you guys suck, and I want to make a movie about traditional marriage and you're not traditional'—that got to me a little bit," Siwa shared.